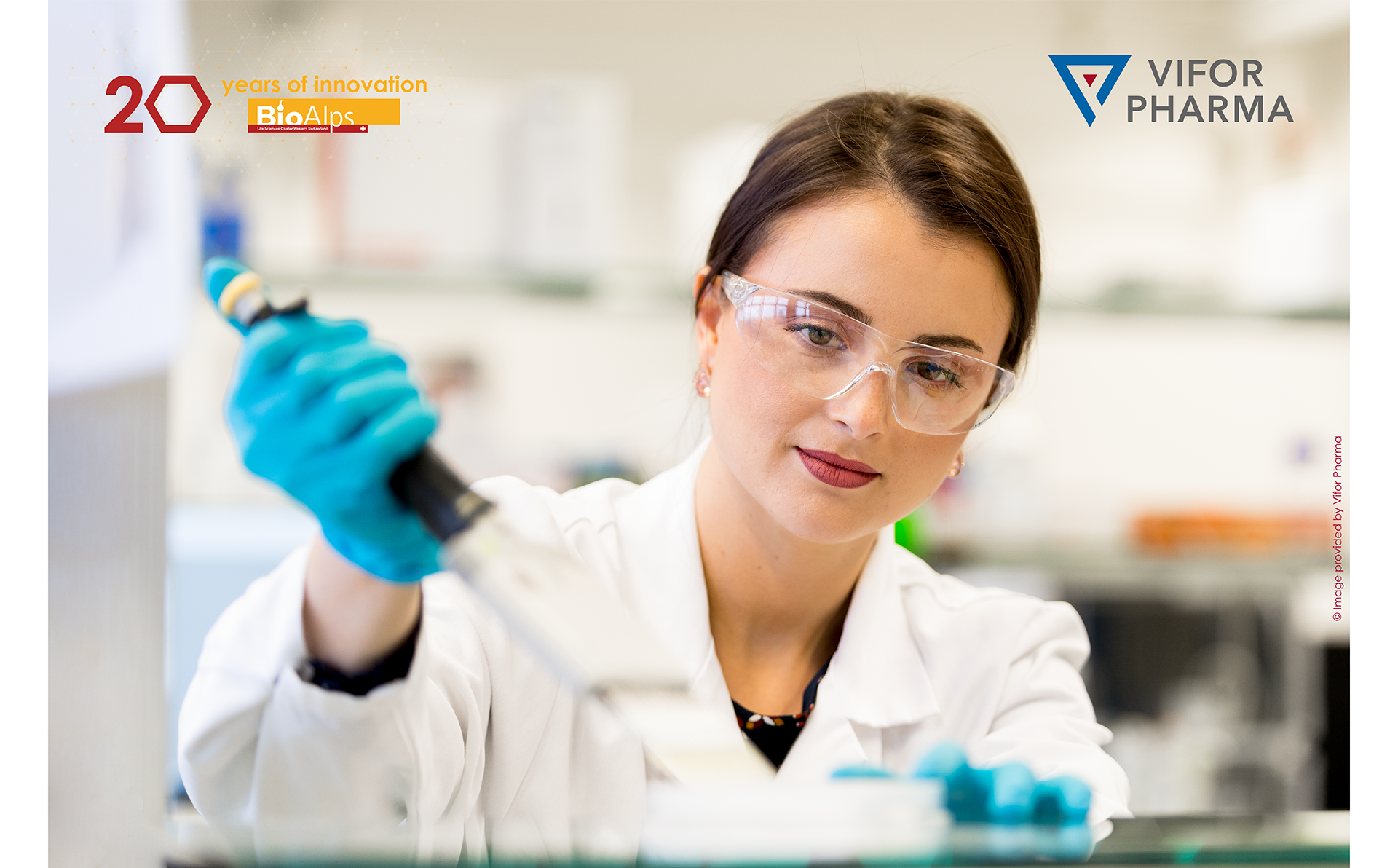 BioAlps | 20 years of innovation | Vifor Pharma

On a mission to help patients live better, healthier lives
We are pleased to share with you our new testimonial series as part of our ecosystem's 20th anniversary celebrations. The series aims to provide a platform for regional Life Sciences key players to present themselves, share their perspectives on the development of Western Switzerland's Life Sciences ecosystem and their outlook on upcoming challenges and opportunities. The following article is presented to you by Vifor Pharma.
Presentation of Vifor Pharma's activities
Vifor Pharma is one of the largest Swiss pharmaceutical companies aiming to become a global leader in iron deficiency, nephrology and cardio-renal therapies. We are a partner of choice for pharmaceuticals and innovative patient-focused solutions as we strive to help patients with severe and chronic diseases lead better, healthier lives.
Driving significant trends and meeting the challenges in life sciences
Geographic expansion, partnerships and in-licensing are major industry trends and cornerstones of our growth strategy. Over the last three decades, we have proven our ability to identify and serve key therapeutic areas with significant unmet medical need. Working with others also enables us to continually expand our innovative portfolio of iron deficiency, nephrology and cardio-renal therapies, acquiring and in-licensing novel late-stage assets and creating mutually beneficial joint ventures. This approach complements our own early-stage R&D capabilities in iron chemistry and biology.
For a globally operating pharmaceutical company like Vifor Pharma, stable framework conditions are decisive for the long-term business success, to be able to adapt permanently to evolving market demands, and to optimally serve patients with unmet medical needs through an innovative portfolio.
Receiving support to fulfil our growth aspirations…
This is as relevant worldwide as it is in Western Switzerland, and for example entails access to qualified personnel not only in the field of Life Sciences, but also for diverse management functions of a global pharmaceutical company, reliable legislation and rights in line with international law, as well as access to the global market and long-term entrepreneurial freedom to support long product cycles.
A strong entrepreneurial spirit in the industry as well as a well-structured and innovation-based ecosystem enabling solid growth in a dynamic environment are further factors that contributed to our growth in Western Switzerland. In the past decade, major projects on our infrastructure involved local and global collaborators, in the fields of engineering, construction or design just to name a few. For instance, our new modular production hall to be inaugurated in the beginning of 2022 was designed by the local innovation entity "blueFACTORY" and involved further local partners and suppliers from the Life Sciences field.
…and contributing to the success of life sciences in Western Switzerland
Over the past 20 years, we were able to contribute to the Life Sciences field through successful collaborations with local associations and institutions, as well as Swiss universities. Through multiple partnerships aiming for international long-term collaborations, we are engaging with various Life Sciences actors mainly located in Switzerland, helping them to build and develop their business.
Leveraging digital to meet the new demands in a growing, interdisciplinary industry
We are still discovering the long-term implications that COVID-19 will have on our industry. One trend that has evolved and has been accelerating as a result of the pandemic is digital transformation. This can be seen for instance in how patients pivoted away from personal visits to healthcare providers (HCP) toward digital channels such as approved email or drug company website portals. We believe that this will be a disruptive change – and a great opportunity in terms of innovation – in how we work and collaborate, and in the functioning of healthcare systems overall.
At Vifor Pharma, leveraging digital is already becoming the new normal in how we engage with customers, partners and patients. Our teams are incorporating innovative ways of working by adapting new skillsets and technologies. For instance, we took part in virtual congresses and created e-booths to interact digitally with HCPs, patients, but also with potential future employees.