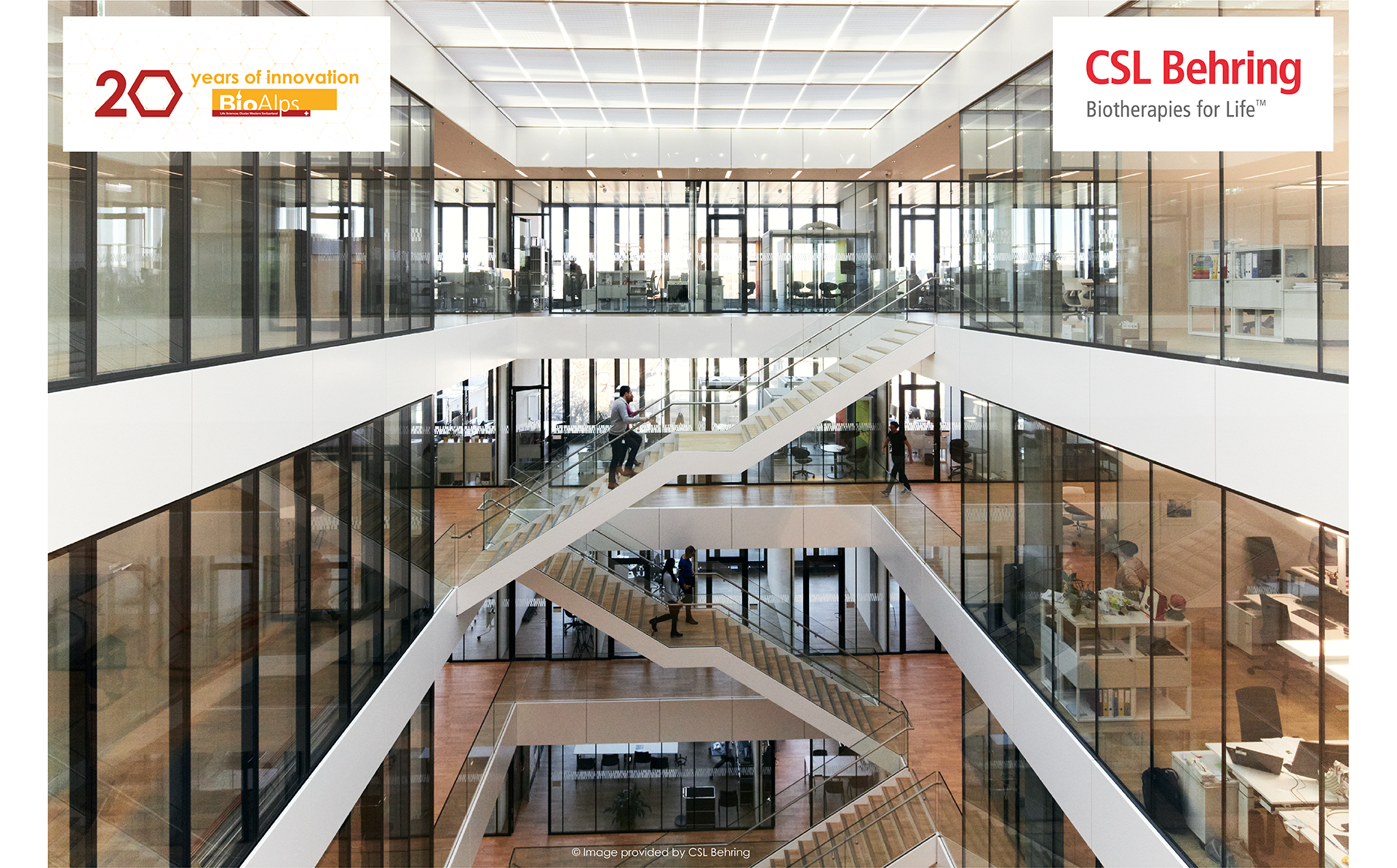 BioAlps | 20 years of innovation | CSL Behring

Fast-tracking innovation through long-term mutual partnerships with academia
We are pleased to share with you our new testimonial series as part of our ecosystem's 20th anniversary celebrations. The series aims to provide a platform for regional Life Sciences key players to present themselves, share their perspectives on the development of Western Switzerland's Life Sciences ecosystem and their outlook on upcoming challenges and opportunities. The following article is presented to you by CSL Behring.
Presentation of CSL's activities
CSL Behring is a global leader in developing and delivering high-quality medicines that treat people with rare and serious diseases. Our treatments offer promise for people in more than 100 countries living with conditions in the immunology, hematology, cardiovascular and metabolic, respiratory, and transplant therapeutic areas. Our research team in Switzerland is based in sitem insel, the Swiss Institute for Translational and Entrepreneurial Medicine where we drive research to develop biologics in CSL's strategic areas.
Major Life Sciences trends and developments in Western Switzerland and CSL's contribution
The systematic interlinking between biotech and academia is becoming increasingly important. This more networked way of working is a catalyst for translational medicine. This is one of the reasons why CSL launched its Research Acceleration Initiative. This initiative establishes partnerships between CSL and global research organizations, including universities, hospitals and institutes across Switzerland and Germany. In addition to creating long-term mutual partnerships with academia to fast-track innovation, CSL's Research Acceleration Initiative includes funding and access to CSL R&D experts.
To foster this networked approach, we at CSL are systematically entering into partnerships. We already are a long-standing member of BioAlps, are evolving our partnership with Biopôle, and have expanded our CSL Research Acceleration Initiative in Switzerland to include the Centre hospitalier universitaire vaudois (CHUV) and the University of Geneva.
Significant foreseeable trends and challenges in Life Sciences
Global trends are also noticeable in Western Switzerland. One concerns the use of new platforms and modalities. Cell and gene therapy are about to make great strides – this also applies to RNA-based therapies. Another trend is combination therapies for complex diseases, e.g. of the respiratory system or the hematological system.
Major events which have contributed to the development of Life Sciences
More than major events it is the incremental work that has greatly contributed to the growth and success of Western Switzerland as a hub for Life Sciences – like the  many little pieces adding up to a mosaic. These pieces – among others – being the commitment of companies, political decision-makers and academic institutions to foster their collaboration in the service of innovation. Sitem as well as Biopôle are great examples for this.
CSL's evolution to meet unmet medical needs

We strive to accelerate the translation of scientific findings into benefits for patients by initiating collaborations with academic institutions and biotech startups from an early stage, and therewith, to bring potential treatments more quickly to market and eventually to patients with unmet medical needs.
CSL's recommendations
Something that is close to our hearts is this: When it comes to partnering with academia, startups and small biotech companies, we believe in true partnerships based on trust, where scientific exchange is front and center.
Or how one of our partners put it when considering participating in CSL's Research Acceleration Initiative: "There are many companies with a grant drive. But the way you talk to us is different. You are genuinely interested in what we do."