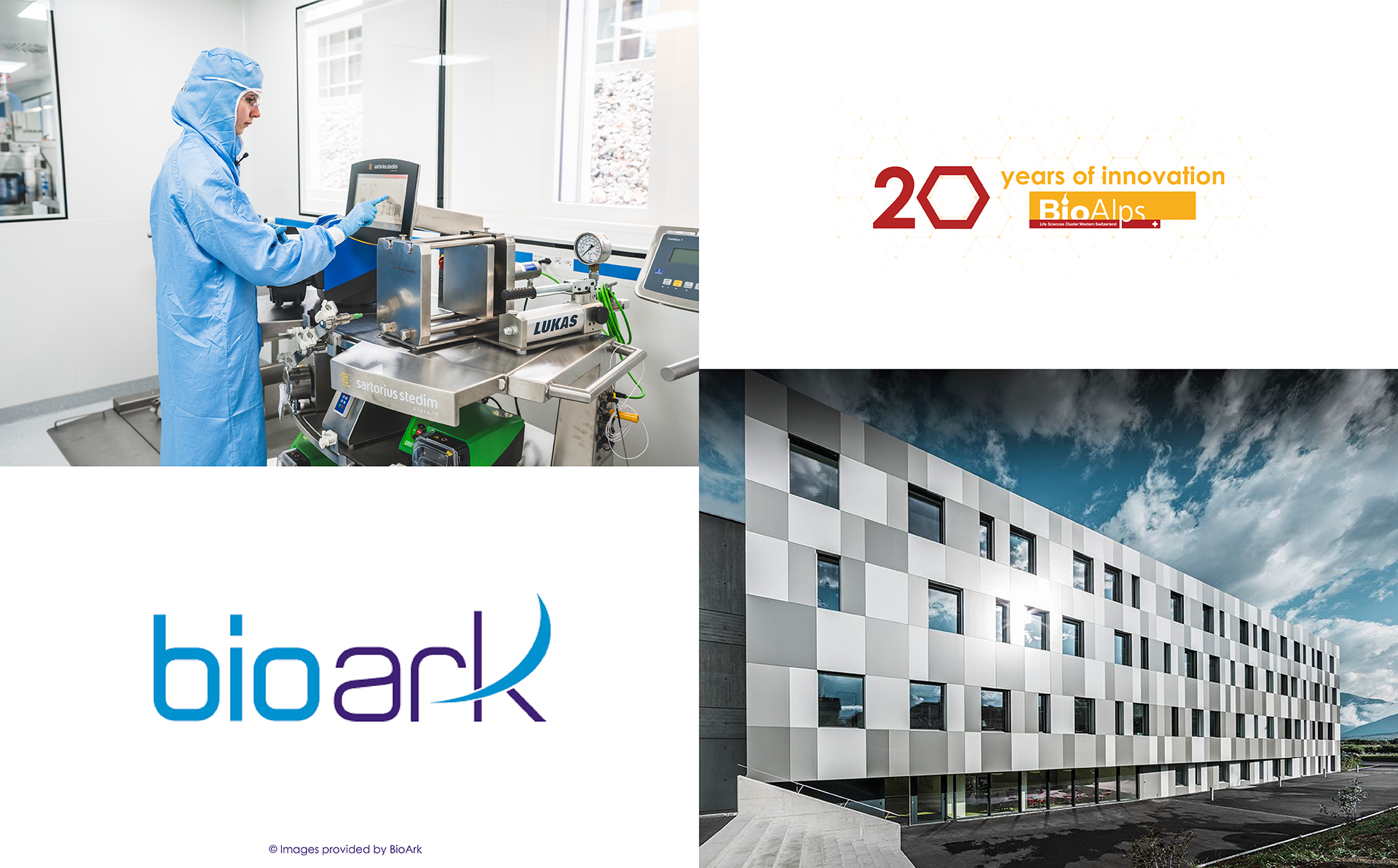 BioAlps | 20 years of innovation | BioArk

Strengthening the Life Sciences value chain from discovery to market
We are pleased to share with you our new testimonial series as part of our ecosystem's 20th anniversary celebrations. The series aims to provide a platform for regional Life Sciences key players to present themselves, share their perspectives on the development of Western Switzerland's Life Sciences ecosystem and their outlook on upcoming challenges and opportunities. The following article is presented to you by BioArk.
Presentation of BioArk's activities
BioArk Monthey and Visp are technological sites dedicated to Life Sciences companies, institutions, and projects, offering dedicated infrastructures (from offices and laboratories to cleanrooms), and supporting them with The Ark Foundation services. The sites hosts three platforms dedicated to rapid diagnostic tests and a biopharmaceutical cGMP manufacturing facility.
Major Life Sciences trends and developments in Western Switzerland and BioArk's contribution
In the last couple of decades, the biopharmaceuticals have enjoyed an explosive growth. The canton of Valais is highly oriented towards services and manufacturing capabilities, with strong players such as Lonza, Siegfried or Bachem, making our canton the first in Western Switzerland in terms of number of job positions. Within this growing ecosystem, BioArk Monthey and Visp are contributing by first, proposing a launch pad for innovative projects, most of them in close connection with or complementary to the industrial ecosystem. And second, we are contributing by strengthening the value chain of the sector. Indeed, by bridging our top-notch industrial ecosystem with the local and national academic competences, we want to ensure a complete offering, in Valais and Switzerland, from discovery to clinical and then to market.
Significant foreseeable trends and challenges in Life Sciences
First, the manufacturing activities in the field of Biopharma will certainly continue to be the trend – see the gigantic program such as IBEX in Lonza Visp. This is a reality offering opportunities and many challenges. Although Switzerland has missed the pivot of biotech a couple of decades ago, the Biopharma manufacturing activities brings back our region onto the international scene as a major player. However, we really must be conscious about the risks and challenges behind the opportunity. First, the demand for competences and workforces is increasing, putting our training and academic system under pressure. And second, sustainability of this industry will certainly go through the digital transformation that needs to be understood, integrated, and considered as a strategic priority. In addition, innovation in the Biopharma space in Western Switzerland suffers from lack of support, leading to a significant drop in terms of new ventures created in the drug development sector. We will need to develop novel models to foster and promote a sector that is historically a mainstream business in Switzerland.
Major events which have contributed to the development of Life Sciences
It is difficult to highlight a particular event. But from BioArk's perspective we can highlight a number of important historical milestones. First, since the end of the 90s, there has been a political, academic, and economic will to bring together the actors of the Life Sciences actors to foster innovation and economical development: creation of Swiss Biotech Association in 1998, FASMED and Swiss Medical cluster, and obviously BioAlps 20 years ago. These initiatives are highlighting and promoting excellence in our sector with a significant impact on all the actors of the ecosystem. Second, the closure of the Merck Serono R&D center in Geneva has been initially considered as an earthquake for the Western Switzerland Biotech sector. However, the response of all the actors, from academics to economical players, in response to it, has been exemplary, with the creation of startups and initiatives to keep competences, infrastructures and jobs in Romandie. Finally, from our cantonal perspective, the creation of BioArk Monthey SA and The Ark Foundation, respectively in 2003 and 2004, sounds as the cornerstones of a cantonal innovation-oriented economic development strategy. Today, this major strategic project results in a Life Sciences park of six buildings, more than 20'000 m2 of dedicated infrastructures and 300 jobs created.
Interdisciplinary in Life Sciences
Our Life Sciences industry will be more transversal and integrated, empowering the individual and putting him at the heart of the system. In such a context, there will be much more interactions between disciplines (nutrition, diagnostics, treatment, etc.) and technologies. It becomes therefore obvious that digital transformation (Biopharma 4.0, digital health) is playing a pivotal role as integrator, for example.
BioArk's recommendations
COVID-19 pandemic is forcing us to re-think all our business models – independently of the sector. "Proximity" will become a major key word in the future with the following inputs:
Invest in training and education to provide high value work forces to the economy, also including a vision on future novel disciplines driven by the digital transformation
Get to know your neighbours! Our technology or business partner is maybe down the road.
Provide a stronger support of applied research in companies to ensure the transition towards the market.