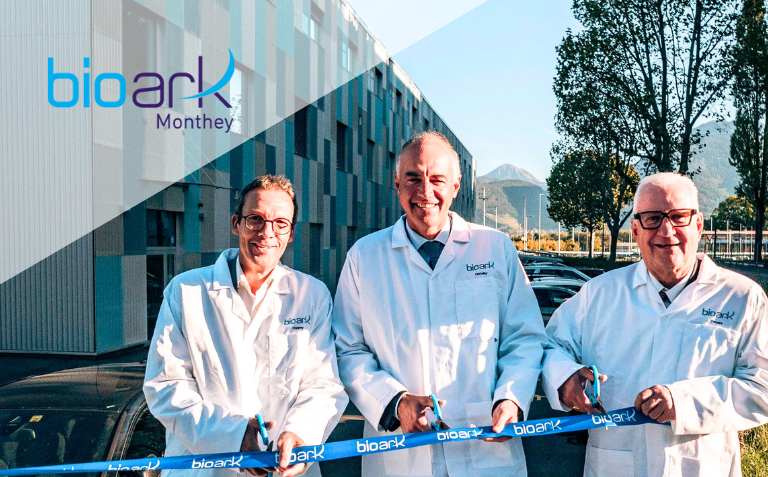 BioArk Monthey: a 3rd building dedicated to life sciences and biotechnologies

BioArk is on a roll! The Monthey-based technology site, which is celebrating its 20th anniversary this year, inaugurated its third building on Friday 13 October 2023. And it is almost already full!
This new showcase, which houses companies specialising in life sciences and biotechnology, is already virtually full. It is proof that The Ark's model of bringing together companies, research institutes, industry and training on the same site meets a real need in the economy. It's also a success story for the Monthey region, where the number of employees at the site has grown steadily since its creation in 2003.
The site's third building was inaugurated in the presence of Christophe Darbellay, Head of the Department of Economy and Education, Stéphane Coppey, President of the town of Monthey, Jean-Marc Tornare, Managing Director of BioArk, and Frédéric Bagnoud, Secretary of The Ark Foundation. Around fifty guests attended the official part, during which the various speakers emphasised the importance of BioArk to the region's economic development. "This blend of training, innovation and industrialisation is without doubt the recipe for success of the strategy put in place by the Canton of Valais and applied through The Ark Foundation," emphasised Christophe Darbellay.
With this third building, the BioArk technology site in Monthey now has over 10,000 m2 of work space. This new high-tech showcase offers a revolutionary, multifunctional "plug-and-play" configuration. Start-ups and SMEs have all the facilities they need at their fingertips, and on a modular scale.
This third building, which reflects a constantly growing need, already has virtually no available floor space. Expansion projects are in the pipeline, a sign of Valais' excellent attractiveness in the biotechnology sector. "Our aim is to anticipate future needs. We're looking to the future of BioArk with a head start, so that we're ready when companies approach us to set up there," explains the site's managing director, Jean-Marc Tornare.
BioArk is a limited company owned by the municipality of Monthey and the canton of Valais, via The Ark Foundation. Currently, around 280 people work at the BioArk site, in some forty companies. As part of The Ark Foundation, the BioArk site in Monthey is the flagship for life sciences and was the first technology site in the Valais. With the opening of the BioArk site in Visp in 2016, the value chain in this field has been strengthened and is being pursued in synergy at both sites.
Source: Press Release
📸 Stéphane Coppey, Christophe Darbellay & Jean-Marc Tornare, in front of the 3rd BioArk building. ©Florian Bouvet Fournier-51