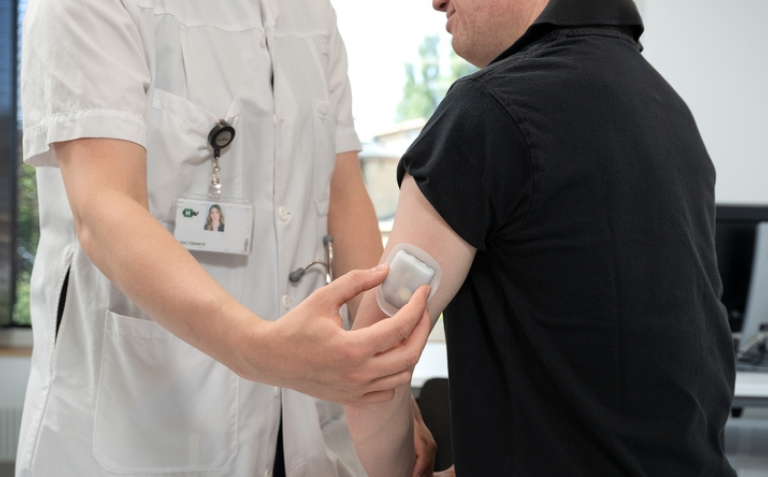 CHUV, HUG and Inserm help Down syndrome patients to get better

The injection of the hormone GnRH improved the cognitive functions of several Down syndrome patients
An Inserm team within the Lille neuroscience & cognition laboratory (Inserm/University of Lille/CHU of Lille), the Centre Hospitalier Universitaire Vaudois (CHUV) and The Hôpitaux Universitaires de Genève (HUG) have collaborated to test the efficacy of a therapy based on the injection of the hormone GnRH, to improve the cognitive functions of a small group of patients with trisomy 21. The first results are promising and are published in Science.
The role of the hormone GnRH
Down syndrome, or trisomy 21, affects approximately one in 800 births and results in a range of clinical manifestations, including a decline in cognitive abilities. Thus, as they age, 77% of people with Down syndrome experience symptoms similar to those of Alzheimer's disease. Progressive loss of olfaction, typical of neurodegenerative diseases, is also common from the prepubertal period onwards, and males may show deficits in sexual maturation.
A group of researchers from the Lille neuroscience & cognition laboratory, studied the GnRH regulation mechanism on mice models of Down syndrome.
The laboratory has shown that five strands of microRNAs regulating the production of this hormone and present on chromosome 21 were deregulated, leading to cognitive and olfactory deficiencies. But the administration of physiological GnRH allowed the restoration of cognitive and olfactory functions.
A CHUV, HUG, INSERM research study
The researchers therefore decided to test the efficacy of a pulsatile GnRH treatment on the cognitive and olfactory deficits of Down's syndrome mice, according to a protocol identical to the one used in humans and developed by the team of CHUV in Lausanne.
Seven men with Down's syndrome, aged 20 to 50 years, and followed by the University Hospital of Geneva, received a dose of GnRH every two hours subcutaneously for 6 months, using a pump placed on the arm. Cognition and smell tests as well as MRI scans were performed before and after treatment.
Promising results
From a clinical point of view, cognitive performance increased in 6 of the 7 patients: better three-dimensional representation, better comprehension of instructions, improved reasoning, attention and episodic memory. However, the treatment had no impact on olfaction.
These promising results now justify the launch of a larger study – including women – aimed at confirming the effectiveness of this treatment for people with Down's syndrome, but also for other neurodegenerative pathologies, such as Alzheimer's disease.