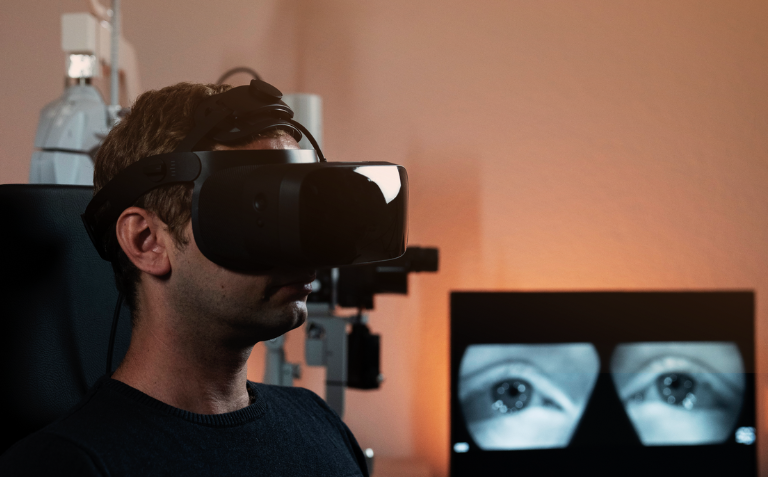 machineMD raises CHF 3.2 Million

T‍he MedTech startup is developing a medical device for the early diagnosis of neurological disorders including brain tumors via neuro-ophthalmic examinations.
machineMD, from the Sitem StartUp Club (SSC), is a spin-off of the University Hospital of Bern, Inselspital, founded by Prof. Mathias Abegg, MD, PhD, and a team of entrepreneurs and medical device experts. Their goal is to bring the diagnostic quality of a highly qualified tertiary care specialist to where it is needed most, in primary and secondary care. The company convinced investors and secured CHF 3.2 million – oversubscribing their seed round by 50%. The main investor is the Guido Fluri Foundation – Leading Partner of the SSC's Investor Club – which is committed to the fight against brain tumors.
In collaboration with Inselspital, CSEM and Helbling, the company was awarded an Innosuisse project of CHF 1.25 million to fully develop a prototype device. The seed funding of CHF 3.2m is complemented by a convertible note of CHF 1.2 million committed in 2021, which will now be converted into equity. machineMD was further supported by a financial contribution from the Canton of Bern. The market launch of machineMD's first product is planned by the end of 2023.
machineMD is developing a novel diagnostic device that enables complete, standardized and automated neuro-ophthalmic examinations. Uniquely combining virtual reality and artificial intelligence, the device will measure biomarkers such as eye and pupil movements that can be used in the early diagnosis of brain diseases such as stroke, multiple sclerosis and brain tumors. It will allow doctors and optometrists to perform eight fully automated examinations within 10 minutes and provide quantitative, objective and reproducible measurements.
The lead investor in this seed round is the Guido Fluri Foundation, which is committed to improving the diagnosis and treatment of brain tumors. The Guido Fluri Foundation is a leading member of the investor club associated with the Sitem StartUup Club (SSC) in Bern, led led by President Daniel Buser, who is very pleased that the SSC was able to significantly support machineMD in the matching of investors.
"This seed round showed us the Sitem StartUp Club is not only a place where MedTech startups get office space, find a lively community and coaching, but also gave us access to an exclusive and active investor club," explains Dominic Senn, CEO of machineMD. " For us, as well as for other MedTech startups, such a comprehensive funding offer with a strong financing component is a key success factor that shows how well Bern is positioned in the field of translational medicine."