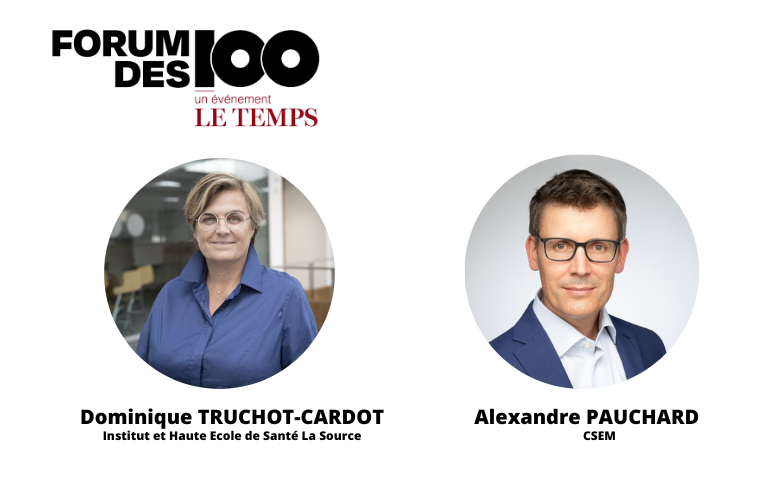 Two BioAlps experts nominated
Two Life Sciences experts, Dominique Truchot-Cardot and Alexandre Pauchard, are among the 100 personalities of the year in French-speaking Switzerland and have been selected by Le Temps Magazine for the Forum des 100. The conference will take place on 11 October 2022 at the Swiss Tech Convention Center.
Dominique TRUCHOT-CARDOT
She was an emergency doctor for ten years in Paris, then notably responsible for the Transversal Unit of Dietetics and Clinical Nutrition at the Annecy-Genevois Hospital Centre, and a full professor at the Institut et Haute École La Source from 2014. This makes Dominique Truchot-Cardot, according to her curriculum vitae, "the first doctor to teach in the world's first secular school of nursing".
Her impressive career path does not end there, however. Since 2017, Dominique Truchot-Cardot has also been the head of the Source Innovation Lab (Silab), which provides a space in which an innovative concept can be discussed, scientifically proven and practically tested with the support of La Source teams. In this context, she also co-created the first collaborative platform dedicated to innovation in care and health, called H4. The aim of this entity is to support idea holders and start-ups at all stages of their projects' development. This is an important initiative, given that 80% of care-related projects still end in failure.
Alexandre PAUCHARD
The Board of Directors of CSEM, the Swiss Centre for Electronics and Microtechnology, was looking for a new director from the world of industry. Alexandre Pauchard, who entered his position in 2021, was for three years director of research and development at Bobst, a company for which he worked for around ten years.
This engineer from Fribourg, aged around fifty, who graduated from the ETHZ, has in particular experienced the digital repositioning of the Vaud-based machine manufacturer, an experience which has certainly helped to convince the directors of the Neuchâtel technology research centre. As did the few years he spent at Intel, the American chip manufacturer.
The CSEM has never hidden its desire to increase its efforts to support SMEs in their digital transformation. Since his arrival, Alexandre Pauchard has been very committed to this theme, helping to spread a refreshing image of the company, which is financed by a public-private partnership.
About the Forum des 100
The Forum of 100 is a platform for debate and networking based on an annual conference with high quality speakers. Every year for the past eighteen years, it has brought together personalities from all walks of life: opinion leaders and business, political, scientific and cultural leaders. For a whole day, the guests debate issues that are crucial to Switzerland's future. It aims to promote the spirit of openness that is characteristic of the French-speaking region, while affirming a strong regional dimension. Its name comes from the special issue devoted to the "100 personalities who make up French-speaking Switzerland", a group of "Élu(e)s" renewed each year who, through their action or their vision, contribute to the dynamism and spirit of innovation characteristic of French-speaking Switzerland.