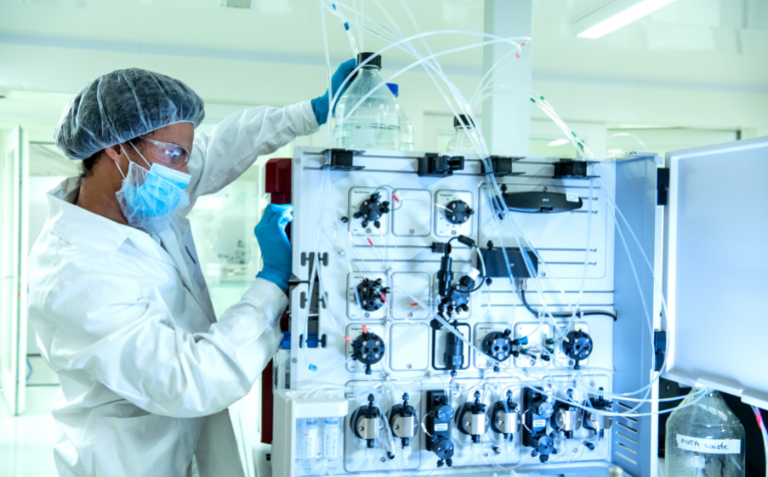 New Gene Therapy Laboratory at the Biofactory Competence Center (BCC) in Fribourg

A jewel for biopharmaceutical education and research
The Biofactory Competence Center (BCC) in Freiburg inaugurated its new gene therapy laboratory on Wednesday 7 September 2022. This state-of-the-art facility will meet the growing needs of the Swiss biopharmaceutical industry in terms of the training of specialised staff and the production of drugs.
Thanks to a close partnership with Pall Corporation, this laboratory further strengthens the BCC as a global centre of expertise in the manufacture of viral vectors for gene therapy. This is a flagship project for the canton of Fribourg, which plays an important role in this field and contributes closely to the search for life-saving therapies.
Gene therapy research is booming, opening up promising prospects for the treatment of many diseases, such as certain cancers and genetic diseases such as the various forms of hemophilia. Recently, the rapid development of certain vaccines against Covid-19 has also highlighted the potential of these techniques.
Meeting the need for highly qualified personnel
The Biofactory Competence Center (BCC) in Fribourg is a unique biopharmaceutical training and research facility in Switzerland. The new gene therapy laboratory, which will be inaugurated on 7 September 2022, will meet the growing needs of the Swiss biopharmaceutical industry, particularly for highly qualified personnel.
The new facility will be able to produce viral vectors used in the treatment of numerous pathologies, in particular certain cancers and hereditary diseases, as well as vaccines. It will be available for the training of staff from basic to advanced levels, for the design of manufacturing processes for new products and for supporting companies working in this field. Ian Marison, founder and chief executive of the BCC: "All training is delivered under realistic industrial conditions and combines theory and practice. This will highlight the key benefits of manufacturing viral vectors for gene therapy, as well as how best to exploit current resources and meet future goals. This new laboratory opens up opportunities in terms of training and research to meet the growing needs of the Swiss biopharmaceutical industry."
Partnership with industry
Created in 2016, the BCC has always had an approach oriented toward the needs of the biopharmaceutical industry, providing theoretical and practical training, research collaborations or designing modular infrastructures for biopharmaceutical production and training. This new laboratory marks a further development of the partnership initiated in November 2017 with Pall Corporation.
For Pall Corporation, partners like BCC play a vital role in the development of a resilient life sciences industry. Clive Glover, Managing Director Gene Therapy at Pall Corporation, says: "It is a real pleasure to see the doors of this laboratory open. By offering scientists the opportunity to use the technologies of Danaher Corporation's life sciences companies (Pall, Cytiva and Beckman Coulter Life Sciences) in their work, we are helping to build expertise and foster talent in the rapidly expanding field of gene therapy. This opening clearly demonstrates our shared intention to empower individual scientists to develop genomic medicine." The state-of-the-art facility includes bioreactors for adherent and suspension cell culture, purification systems, mixing, filtration and fluid handling technologies, supported by associated assays from Danaher's operating companies Cytiva and Beckman Coulter Life Sciences.
A bonus for students and applied research
Through its multiple relationships and collaborations with the biopharmaceutical industry, in particular with Pall Corporation, BCC, as an entity of the University of Engineering and Architecture of Fribourg, HEIA-FR, strengthens the vital links between the University and the regional and even international economic context. Both student teaching and applied research activities benefit from these links. For Jean-Nicolas Aebischer, Director of the HEIA-FR, this is a win-win partnership: "In every partnership, it is important to establish and maintain a symmetry of interests. It is in the interest of our school to have access to sophisticated equipment at the cutting edge of technology. Pall Corporation has a vested interest in having enough highly qualified staff to provide patients with access to this new therapy. This partnership is exemplary and the BCC, respectively the HEIA-FR, are very happy to be able to continue and intensify the collaborations with Pall Corporation through this viral vector manufacturing laboratory.
A flagship project for Fribourg
This new laboratory further anchors Fribourg as a training canton, at the forefront of research while being close to practice and the needs of the economy by offering targeted support measures for innovation. Jerry Krattiger, Director of the Fribourg Economic Development Agency, PromFR, is proud: "The opening of this new laboratory will have a strong impact on Fribourg as a business and scientific location. We are particularly happy and proud of this new fruit of the close collaboration between Pall Corporation and the BioFactory Competence Center, two leading entities of the Fribourg economy. This new laboratory opens up new perspectives for them.
This new laboratory reinforces the positioning of the canton of Fribourg on the Swiss and European map of innovation in life sciences, which are an essential pillar of the Fribourg economy, and more specifically in the development and production of viral vectors and the provision of new gene therapies.
Source: Press Release