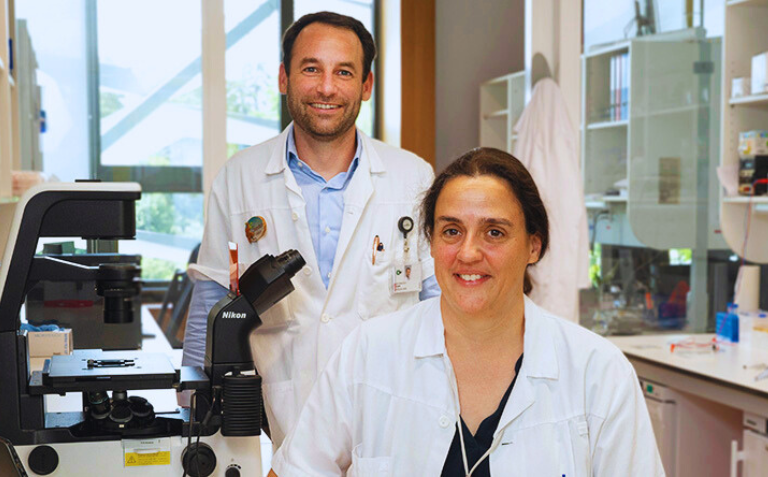 CHUV launches a new cellular immunotherapy to treat acute myeloid leukemia

This subtype of cancer, which is particularly aggressive in children and frequent in adults, responds poorly to current standard treatments. Thanks to a private donation of CHF 2.8 million coordinated by the ISREC Foundation, the CHUV will pursue promising research, with the aim of launching a clinical trial at the end of 2024.
The "FIAMMA" research project is being conducted in close collaboration by Dr Francesco Ceppi, Associate Physician at the CHUV Pediatric Hematology-Oncology Unit, and Pre Caroline Arber, Associate Physician at the UNIL CHUV Department of Oncology (Immuno-Oncology and Hematology Services). It is in line with the translational research vision of the CHUV, UNIL and the Ludwig Institute for Cancer Research (LICR), and reflects a close collaboration between several institutions in the Lake Geneva region, brought together within the Swiss Cancer Center Léman (SCCL). The study aims to develop a new cellular immunotherapy for children and adults affected by acute myeloid leukemia in relapse after standard treatment.
Acute myeloid leukemia often responds poorly to available treatments
Acute leukemia, the most common childhood cancer, is divided into two subtypes: acute lymphoblastic leukemia (ALL) and acute myeloid leukemia (AML). AML, which is particularly aggressive in children and frequent in adults, responds poorly to current standard treatment, which consists of intensive chemotherapy accompanied, where possible, by hematopoietic stem cell transplantation from a healthy donor. Despite remarkable improvements over the past 40 years, this treatment fails in 30-40% of children and more than half of newly diagnosed adults.
"With our FIAMMA project, we are targeting this pediatric and adult patient population that is often overlooked in medical research. To this end, we propose to evaluate a new immunotherapeutic approach based on T lymphocytes equipped with a chimeric antigen receptor (CAR). CAR confers on T lymphocytes the ability to directly recognize and destroy targeted leukemia cells. This innovative treatment has curative potential," comments Professor Caroline Arber.
How does CAR-T lymphocyte immunotherapy work?
CAR-T lymphocyte immunotherapy involves taking the patient's own immune cells (T lymphocytes), manipulating them to learn how to effectively recognize a marker present on cancer cells (by adding a specific CAR receptor) and then transferring these modified lymphocytes (CAR-Ts) back to the patient. In this way, immune cells specialized in recognizing and eradicating the tumor cells that cause leukemia are introduced into the patient's immune system.
However, this specificity means that new types of CAR-T need to be developed for different types of cancer. Commercial CAR-T therapies have already been introduced at the CHUV by the Immuno-Oncology Department for acute lymphoblastic leukemia (ALL), certain aggressive lymphomas and multiple myeloma. However, as Dr Francesco Ceppi explains, "in Switzerland, there are currently no clinical studies or commercial CAR-T cell-based products for acute myeloid leukemia, and international studies in the USA or China are only at an early stage. If we don't develop our own academic study, we won't have a similar approach available in Switzerland for the treatment of relapsed AML in the medium term".
From laboratories to patients
Preclinical results obtained to date are promising. They show that the new CAR-T cells developed can recognize and kill acute myeloid leukemia cells effectively in vitro and in vivo. The donations received by the ISREC Foundation will enable this research to be continued and brought into the clinic.
The first stage of the FIAMMA project will be to finalize preclinical studies in Pre Arber's research laboratory to document the proper functioning of the new CAR-T product directed against AML. The second will be to optimize the CAR-T lymphocyte production process, in close collaboration with the world-renowned Centre de Thérapies Expérimentales of the UNIL CHUV Department of Oncology, which has all the infrastructure needed to manufacture CAR-T products for academic clinical trials. Next, a key step will be to develop the clinical research protocol, which will be submitted for approval to the Swiss Agency for Therapeutic Products (Swissmedic) and the Cantonal Commission for Ethics in Human Research (CER-VD).
Once both bodies have given the go-ahead, the Phase I clinical trial can begin at the CHUV – ideally in late 2024 or early 2025. The trial will be conducted with 6 adults and 6 children eligible for the FIAMMA study, recruited both in Switzerland and abroad given the specific criteria and unique nature of the project. Once the treatments have been administered, in-depth analyses will be carried out to assess the efficacy of this new therapeutic approach.
Source: CHUV
📸 Dr Francesco Ceppi, Associate Physician at the CHUV Pediatric Hemato-Oncology Unit, and Prof. Caroline Arber, Associate Physician at the UNIL CHUV Oncology Department (Immuno-Oncology and Hematology Services).