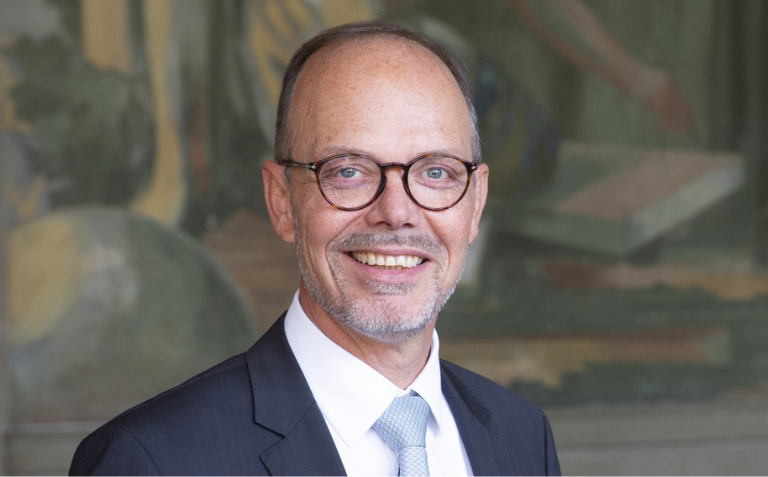 Prof. Antoine Geissbuhler appointed Dean of UNIGE Faculty of Medicine

BioAlps President, Prof. Antoine Geissbuhler, takes a new position. He is now at the helm of UNIGE Faculty of Medicine.
Antoine Geissbuhler is a doctor specializing in medical informatics. A full professor since 2006, he is also director of the HUG Innovation Center and head physician of the eHealth and Telemedicine Service, recognized as a WHO collaborating center. His research focuses on the design and application of new IT tools in the medical field. In particular, he helped implement Switzerland's e-health strategy and developed the RAFT project, a major telemedicine network linking hundreds of healthcare professionals in 20 countries in Africa, Asia and Latin America. In 2022, he was elected President of BioAlps, Western Switzerland life sciences cluster. Former Vice-Dean of the Faculty of Medicine, Antoine Geissbuhler is UNIGE's Vice-Rector for Digital Strategy and Innovation until 15 July 2023.
UNIGE Faculty of Medicine
With 2615 pre- and post-graduate students and 1570 staff, the UNIGE Faculty of Medicine trains over 150 new doctors, 26 new dentists and 21 bachelor students in medical sciences every year. It also boasts 228 research groups working on all facets of the life sciences, both fundamental and clinical. "A Faculty where it's good to learn, teach, research, work, debate and engage – an inclusive place of participatory debate where collective intelligence is discussed and valued. That, in a nutshell, is the vision I'd like to convey", emphasizes Antoine Geissbuhler, full professor and new dean.
With this in mind, new teaching formats will be developed to reinforce cross-disciplinary skills and professional identity. In addition, the issues of diversity, gender bias in medicine, sustainability, digital technology and artificial intelligence will be better taken into account. Translational research – which aims to strengthen the dialogue between fundamental biology and its clinical applications – will also be at the heart of his work. Antoine Geissbuhler will also be setting up initiatives aimed at strengthening the confrontation of ideas and transversality to enable the emergence of innovative solutions.
Source: UNIGE