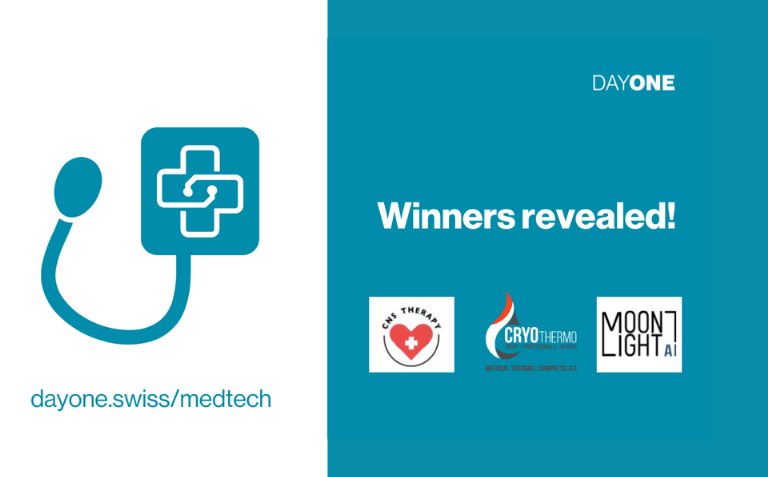 DayOne Tech Accelerator presents its first cohort

The DayOne Tech Accelerator in the Canton of Jura has just announced its winners. Three Medtech startups are starting a 12-month programme. Experts will help to push them to a higher level.
CNS Therapy (Zug): Drug-free pain treatment
The company has developed the ability to treat chronic pain patients using neuromodulation and behavioral therapy. Without drugs, surgery, implants or cannabis.
Moonlight Ai (Courroux): Democratizing access to genomic information for accurate cancer diagnostics
The Jura-based startup is developing artificial intelligence models for the prediction of therapeutically relevant genomic biomarkers using image scans of stained hematology or pathology slides. Moonlight AI intends to use the acquired information and its core competencies to develop, in collaboration with pharmaceutical companies, relevant biomarkers for R&D and continuous diagnosis for patients.
Cryothermo (Courthedoux): new generation of medical thermal pads. The Jura-based startup's solution is aimed at sports, work and health professionals and will offer an individualized device for each part of the body to help heal injuries and pain more quickly.
The DayOne Accelerator is Basel Area Business & Innovation's healthcare innovation initiative and is divided into three verticals: DayOne Health 4.0, DayOne Tech and Digital Health Nation. They support promising new companies in the field of digital health and precision medicine with advice, mentoring, funding and collaborative workspaces. DayOne Tech accelerates medtech projects in the canton of Jura within a global research and manufacturing ecosystem to take a prototype to the next level.
Since 2018, DayOne has supported 23 companies with a combined valuation of more than 80 million Swiss francs, contributing to the Basel region's life science ecosystem. It is supported by global players such as Novartis, Bayer and Takeda.
Source: Press Release