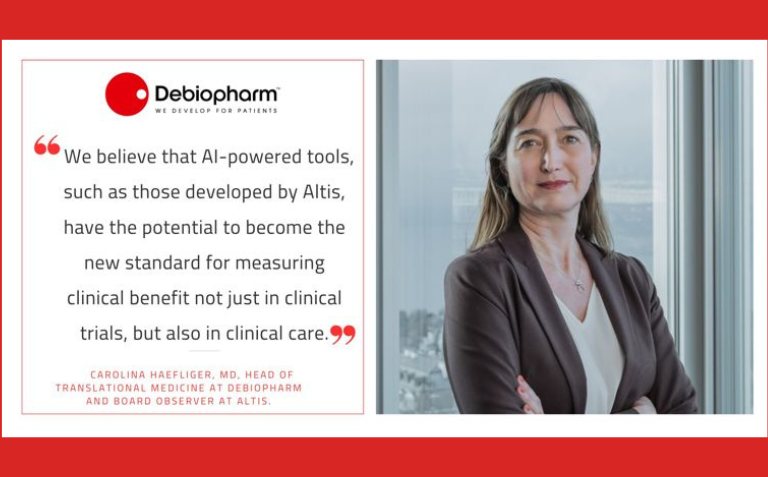 Debiopharm invests $6 Million with Benchstrength in Altis Labs

Altis Labs is a Canadian computational imaging company accelerating clinical trials with artificial intelligence.
"We are thrilled to partner with Benchstrength and Debiopharm," said Felix Baldauf-Lenschen, Co-Founder and CEO of Altis. "This partnership will help us execute on our mission to reduce the excessive time and cost it takes to bring novel, effective treatments to patients in need."
Medical imaging accounts for 90% of all healthcare data. Altis was founded with the belief that imaging is the richest source of clinical data but is vastly underutilized. Reductionist interpretation guidelines developed over 40 years ago are known to over- and underestimate clinical benefit [1, 2, 3], thereby limiting clinicians' ability to measure how well cancer treatments work.
Trained on the world's largest proprietary cancer imaging database with longitudinal clinical context, the company's state-of-the-art deep learning models predict clinical endpoints to help quantify treatment effect beyond simplistic and subjective tumor size measurements.
Funding will be used to scale the development of Nota, Altis' AI-powered imaging biomarker platform, across solid tumor types and therapeutic areas. Leading biopharma companies like Bayer Pharmaceuticals use Nota to analyze imaging data from phase 1-3 clinical trials in a more meaningful way.
"In R&D, imaging is a core component of what we do in clinical trials and current methods don't exploit its full potential," said Carolina Haefliger, MD, Head of Translational Medicine at Debiopharm and Board Observer at Altis. "We believe that AI-powered tools, such as those developed by Altis, will become the new standard for measuring clinical benefit not just in clinical trials, but also in clinical care."
Altis hosts proprietary prognostic models in the Nota cloud platform for biopharma R&D teams to automatically analyze clinical trial imaging data. Model predictions allow researchers to more accurately stratify patients at baseline and measure treatment effect across subpopulations. These insights help sponsors generate higher quality evidence earlier in clinical development to increase success rates in late-stage trials and inform critical R&D decisions spanning go/no-go, trial design, reimbursement strategy, and revivals of shelved assets.
"It's clear that AI will have a significant impact across healthcare, but Altis is uniquely positioned to transform the economics of clinical development," said Kenneth Chenault, Managing Partner at Benchstrength and Board Director at Altis. "The Altis team has curated an unparalleled clinical imaging database in terms of both depth and breadth, which they are translating into actionable clinical insight thanks to their AI models.""This milestone for Altis is a testament to Canada's leading role in both AI and clinical research" said Sally Daub, Co-Founder and Board Chair at Altis. "Our goal is to accelerate therapeutic development and improve the standard of care."
Altis' imaging-based prognostication (IPRO) technology has been validated in collaboration with Canada's leading cancer centers, with results published in the Journal of Clinical Oncology – Clinical Cancer Informatics [4] and presented at the American Society of Clinical Oncology [5, 6].
Source: Press Release