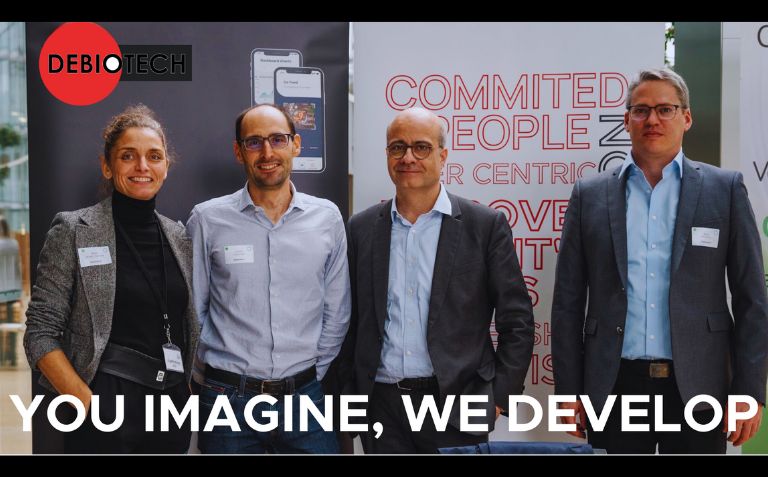 DEBIOTECH, your local expert and partner for the development of medical devices

Debiotech is delighted to support catalysing innovation and advancing healthcare. The Swiss medtech company is proud to be part of MEDICA, alongside BioAlps, from 13 to 17 November 2023 in Dusseldörf.
In the dynamic landscape of modern medicine, technological advances continue to revolutionize patient care and treatment methods. However, the development and deployment of ground-breaking medical technologies often relies heavily on the substantial investment and support of dedicated partners. For Debiotech, actively participating in the Swiss Health Valley ecosystem, such as at the BioAlps Networking Day 2023, is a way of supporting and stimulating the innovation engine within the Swiss MedTech industry. The company also participates in MEDICA COMPANED as part of this successful partnership.
Finding the right partner is a complex but crucial task
Finding your MedTech development partner plays a vital role in facilitating research and development, accelerating the commercialization of cutting-edge medical devices, and encouraging local collaborative initiatives to push the boundaries of healthcare possibilities. From small start-ups to established industry leaders, the benefits of strategically outsourcing some or all of development ripple throughout the ecosystem, enabling transformative solutions to critical healthcare challenges. Strategic outsourcing enables companies to navigate complex regulatory pathways, overcome technical hurdles and ultimately bring impactful solutions to market faster.
Recognized player in the MedTech industry
Debiotech, a recognized player in the medical technology industry, certified ISO13485 since 2001 (and EN 46001 previously, since 1995), has always demonstrated its ability to develop complex and innovative medical devices. The company's culture is based on collaboration and knowledge sharing, fostering an environment where diverse perspectives converge to tackle complex healthcare problems.
For over 30 years, Debiotech has integrated interdisciplinary expertise, encouraging collaboration between experts from different fields. The company's skills range from mechanical engineering development to systems integration. For over 15 years, expertise in cybersecurity and machine learning has enabled the company to develop unique solutions that are not only technologically advanced, but also designed to meet the specific needs of patients and healthcare professionals. Moreover, Debiotech's astute understanding of regulatory requirements and adherence to stringent quality standards has further solidified its position as a trusted partner in the medical technology landscape. By prioritizing compliance and safety in every stage of product development, Debiotech has garnered trust and credibility within the industry, fostering strong partnerships with healthcare institutions and regulatory bodies worldwide.
📸 ©BioAlps | LakeProd. From left to right: Marie Burel-Duton, Business Development Manager. Laurent Colloud, Software Project Manager. Laurent-Dominique Piveteau, CEO. Basile Michelet , Senior System Engineer
FLASH THE QR CODE