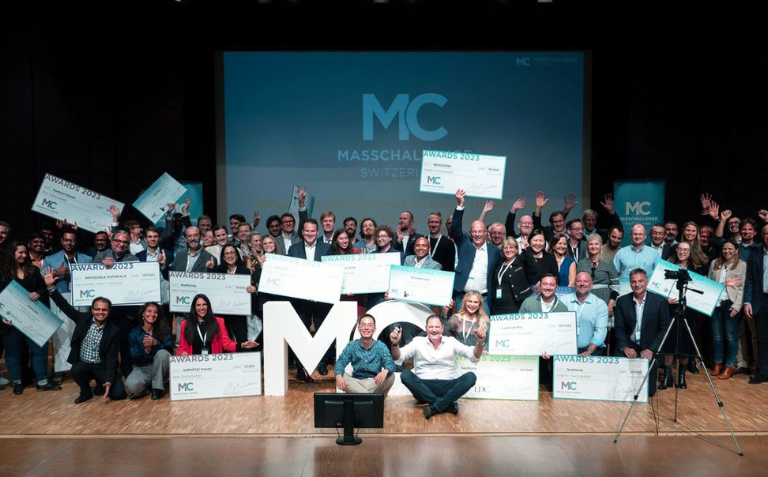 Impossible Materials wins the Mass Challenge Diamond Prize

The University of Fribourg chemtech spin-off has been granted CHF 120,000 in cash. The start-up provides cellulose white pigment solutions to enable businesses greener product formulations.
In April, the start-up raised CHF 3.4 million to work on marketing its first product, a cellulose-based white pigment. The product is positioned as an alternative to titanium dioxide, a substance recently banned in the EU for use in food. Lukas Schertel, CEO & co-founder at Impossible Materials said: "We couldn't be prouder and more honored to receive this prestigious recognition. At Impossible Materials, we are committed to pushing the future of sustainable, plant-based ingredients every single day, and this incredible achievement is just the beginning."
MassChallenge Switzerland, part of MassChallenge's global network for innovators and zero-equity startup accelerators, celebrated yesterday the winners of its 2023 Early-Stage Startup Accelerator Program, as well as the Louis Dreyfus Company (LDC) Climate Resilience Prize laureate.
Hosted in Lausanne, Switzerland, the 2023 MassChallenge Switzerland Awards Ceremony was attended, on 26 October, by over 400 guests and simultaneously broadcast worldwide. The ceremony celebrated the 12 early-stage startups that won the MassChallenge Switzerland awards, sharing the CHF 400,000 equity-free cash prize among them.
The ceremony was also the occasion to celebrate the community of experts who supported the 112 startups to launch, grow and scale their businesses during the four-month acceleration program, including the 494 independent judges and 587 mentors involved this year.
Matt Lashmar, Managing Director of MassChallenge Switzerland, said: "I would like to thank our experts and partners for generously giving their time and expertise to help our startups advance their projects. This help is reflected in the record result this year, with 58% of startups exceeding their ingoing accelerator objective. I would also like to recognize the support we gained across the ecosystem to enable our entrepreneurs to be "climate responsible. We hope this becomes the 'new normal' for accelerators, in collective pursuit of reduced emissions and benefits for society as a whole."
Since launching in 2016, MassChallenge Switzerland has accelerated more than 720 startups who have raised over CHF 1.2Bn in funding and created 50,000+ jobs.
Source: Mass Challenge Switzerland