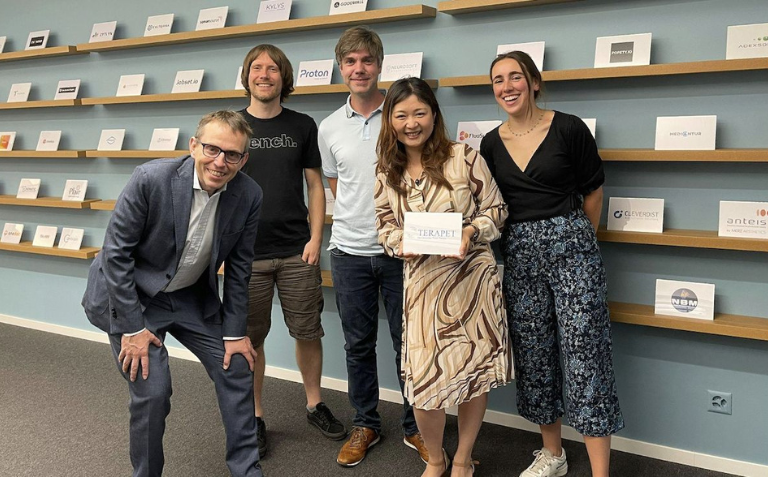 iOnctura, EBAMed and Terapet awarded by the Fongit

Fongit, the Fondation Genevoise pour l'Innovation Technologique, has just announced the latest beneficiaries of the Fongit Innovation Fund (FIF). iOnctura is awarded a growth loan of CHF 400,000. EBAMed and Terapet receive each a seed loan of CHF 100,000.
The Fongit Innovation Fund
The FIF is the instrument for fostering innovation and the scale up of promising companies from the Canton of Geneva at the service of the United Nations (UN) Sustainable Development Goals (SDGs). The FIF is supported by the State of Geneva, the Geneva Chamber of Commerce (CCIG), International Trade Center (ITC) and UN Environment. Last week, three women CEOs have secured FIF support, one of which brings home the biggest amount awarded from FIF to date of 400,000 CHF.
iOnctura
iOnctura, a spin-out from Merck, is aiming to uncover the key to unlocking difficult-to-treat tumors burdened by stroma and immune-mediated resistance. iOnctura has a pipeline of carefully selected assets licensed from Merck and Cancer Research UK. iOnctura demonstrated innovation, through pioneering scientific research, in collaboration with world-renowned collaborators and uncovering new ways to exploit new and emerging mechanisms of action. For the first time since its launch, FIF granted the growth loan of CHF 400,000 to iOnctura.
EBAMed
EBAMed is developing innovative solutions for non-invasive and automated treatment of heart arrhythmias by using proton therapy (external beam ablation). The company is currently developing a medical device to enable non-invasive heart motion imaging and real-time synchronization of the therapeutic beam. This device consists of both hardware and software components and expands treatment possibilities for existing proton therapy centers, enabling them for the first time to treat heart patients. EBAMed has been endorsed by the EU funding program and the 100 Top Swiss Startup Award. EBAMed was awarded the seed loan of CHF 100,000.
Terapet
Terapet is a CERN startup that works on improving a breakthrough proton therapy for cancer treatment. Proton therapy is an advanced form of radiotherapy for cancer treatment that can target tumors with extreme precision, leaving healthy cells near the tumor unharmed. This company has been endorsed by the EU funding program and it is part of the 100 Top Swiss Startup Award. Terapet was granted the seed loan of CHF 100,000.
The next deadline to apply for FIF support is 7 October 2022. Apply here