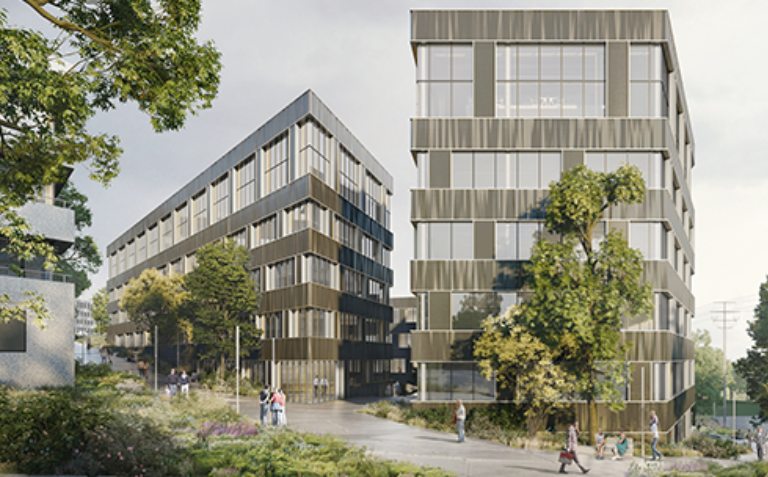 Three new buildings on the Biopôle site in Lausanne

Biopôle SA announces a new partnership with Edmond de Rothschild Real Estate SICAV for the construction of three new buildings dedicated to Life Sciences. The work will start in December 2022 in Épalinges.
This new 23,000-m2 complex, distributed over three buildings, will host up to 500 people and has been designed to house both offices and laboratories for companies working in life sciences. It will be located at the south end of the campus, by the Vennes metro stop, and next to the Aquatis Aquarium. This new development with wooden-framed facades will be built to Minergie®-P standards and surrounded by trees.
Edmond de Rothschild Real Estate SICAV
Edmond de Rothschild Real Estate SICAV already owns 15'120 m2 on the Biopôle site in Epalinges and made its first investment on site more than 10 years ago.
"We are convinced that the development of the life sciences is vital, and we are reinforcing our commitment to this sector through our project at Biopôle. Its dynamic community has evolved massively in recent years and, with this project, we are proud to participate actively in its future development", says Pierre Jacquot, Co-CEO of Edmond de Rothschild REIM, manager of Edmond de Rothschild Real Estate SICAV.
Biopôle, a Life Sciences Hub
Located at the heart of the Health Valley, Biopôle currently hosts around 2,400 people, with more than 130 companies and research institutes present on the site.
"Biopôle offers modern, high-quality infrastructure and an agreeable workplace environment. But we go well beyond that by creating a dynamic ecosystem with community support and stimulating effective networking between entrepreneurs, which are invaluable for our members and enable them to thrive," says Nasri Nahas, CEO of Biopôle SA. 
Since the first building was erected in 2009, eight buildings with a total floorplan of 54,000 m2 have been constructed. In addition to the project developed by Edmond de Rothschild Real Estate SICAV, three more buildings are planned by 2025, two of which will be built for research entities from the Lausanne University Hospital (CHUV). Also currently under construction, the Leucine building will be available for rent in September 2023.