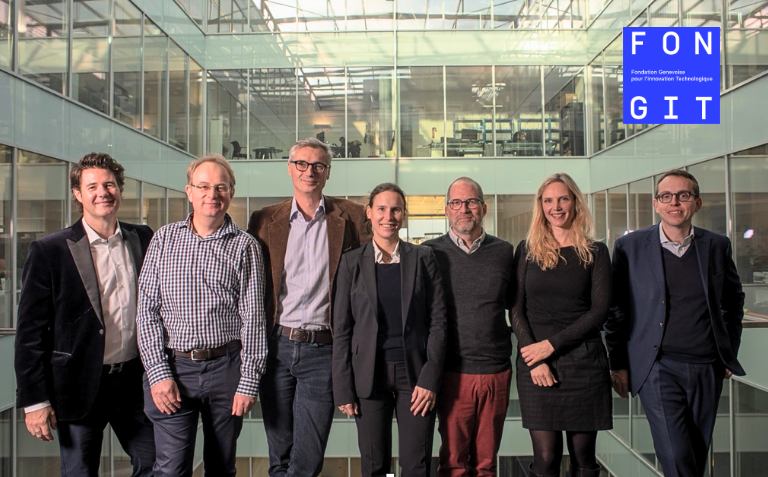 FONGIT Innovation Initiation Program for Life Sciences – and Deep Tech Projects

In 2016 FONGIT, in Geneva, and EPFL Innovation Park launched the Geneus program – the first innovation initiation program – transforming life sciences research into startup projects. After 7 successful years in which 150 innovators were supported, FONGIT has upgraded this program and extended the approach to all areas of deep tech, becoming the FONGIT Innovation Initiation Program.
This program provides a valuable step in shaping and derisking projects with the aim to prepare and support them towards becoming the next top startups in their field. Now both life sciences, deep tech, and high impact projects can enter the FONGIT innovation initiation program. James Miners, Head of Startup and Innovation Programs at FONGIT, answered a few questions.
Who can apply to the upgraded FONGIT Innovation Initiation Program?
All deep tech and high impact projects are welcome to apply to the FONGIT Innovation Initiation Program, whether they are from academia or industry. They must be based in Geneva, or willing to settle here. You just fill in the application form and provide any documentation you may have (slide deck, elevator pitch, value proposition canvas, lean canvas, etc.).
What does the FONGIT Innovation Initiation program consist of? What benefits will the projects receive?
After an initial selection process, each project is assigned an innovation coach who helps them to carry out a gap analysis. This diagnoses their maturity and define what resources they will need and what partnerships they could form. The project leaders are then entitled to three coaching sessions. After a first cycle of initiation, the committee decides if they are ready to apply for startup support, graduate, or to do a second cycle. The innovators can also participate in the workshops and events organized by FONGIT and have a workspace at FONGIT's headquarters in Plan les Ouates.
What is the goal of this program?
Our mission is to transform research into social and economic value. We guide the innovators from the idea stage to an MVP (Minimum Viable Presentation), and to get their first feedback from stakeholders and future customers. We work strongly together with academic institutions such as Science Innovation Hub, HUG Innovation Center, CERN, the Applied Universities to name a few, as we complement the project's translational activities and provide the bridge to the startup world. We guide the innovators on their cultural journey from being an academic researcher and becoming an innovator and startup entrepreneur – and we connect them with the whole Swiss startup scene.
We try to empower the project leaders, so they can start hunting for awards, grants and angel money on their own or also to apply to the FONGIT Innovation Fund. Finally, we hope that they will find a promising way to create jobs and that they will settle permanently in our thriving startup community.
Can you name a few life sciences startups that were born at Geneus?
Many interesting projects were born at Geneus such as OneDoc, the online medical appointment booking platform, EBAmed (which just raised CHF 14 Million), Terapet, Fluosphera, Imverse, Hero Support, Consulto are just a few of the alumni of this powerful innovation initiation program.
How does the Innovation Initiation Program fit with FONGIT's well-known Startup Support?
FONGIT Innovation Initiation Program is the perfect preparation for startup support and many of the top Swiss startups have progressed from initiation to full support on their path to success.
Innovation Initiation is designed for early stage projects which need shaping and de-risking before deciding to launch the startup.
Startup support is for more advanced, deep tech projects where the company is ready for foundation, or is already founded, and has a full pitch deck and committed team.
If an entrepreneur is not sure which is the best program, they can simply apply here. FONGIT's selection committee will guide them to the optimal program.
📸 FONGIT's startup coaches and senior advisors: Dr. James Miners, Dr. Bolko Hohaus, Emmanuel de Watteville, Caroline Coquerel, John Elbing, Ingeborg Albert, and Antonio Gambardella. (Not pictured: Dr. Christine Deuschel, Dr. Wilma Lukas, and Dr. Marco Rüedi.)
Next FONGIT Innovation Fund Deadlines
10 August 2023
2 October 2023
7 November 2023