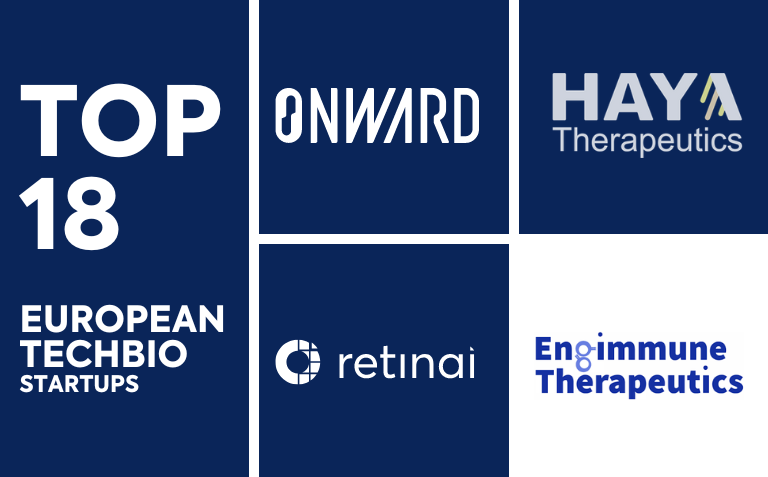 Four Swiss🇨🇭 start-ups in the Top 18 European TechBio companies

ONWARD, Haya Therapeutics, Retinai and Engimmune Therapeutics are in the top 18 Biotech companies in Europe according to investors.
Stuck in the middle… raising funds can be hard for biotech start-ups… Biotech investors may not get the tech bit, while tech investors don't get the bio bit. 
Sifted
asked investors who ventured into the TechBio world which European startups they're keeping an eye on.
ONWARD (VD)
ONWARD is headquartered at the High Tech Campus in Eindhoven, the Netherlands. It maintains an office in Lausanne, Switzerland, and has a growing U.S. presence in Boston, Massachusetts, USA. The medtech company creates innovative therapies and implants to restore movement, independence, and health in people with spinal cord injuries. This technology could be a game-changer for millions of patients with spinal cord injuries. The fist results are promising and paralyzed people were able to retrieve partial mobility during the clinical trials.
HAYA Therapeutics (VD)
HAYA Thepapeutics was founded in 2017 in Lausanne. The company discovers and develops innovative tissue- and cell-selective genomic medicines for fibrotic diseases and other serious health conditions associated with aging, including cancer. The company's discovery engine focuses on long non-coding RNAs (lncRNAs) within the "dark matter" of the human genome — key tissue and cell-specific drivers of fibrosis and other disease processes — to identify novel targets and drug candidates with the potential for greater efficacy and safety than existing treatments. HAYA's lead therapeutic candidate is an antisense molecule targeting Wisper, a cardiac-enriched master driver of fibrosis, which has shown in preclinical testing the ability to halt and potentially reverse the fibrotic processes underlying heart failure.
Retinai (BE)
Retinai was founded in Bern in 2016. The company developed RetinAI Discovery®, a vendor-neutral medical image and data platform that provides solutions to harmonize data and gain powerful insights, connecting healthcare professionals in a single working environment. RetinAI's AI models provide automatic, enhanced insights to biomarkers, fluid and layer segmentation and quantification in retinal pathologies.
Engimmune Therapeutics (BA)
Engimmune Therapeutics is a Swiss platform company founded in 2021 in Basel. The company recently raised 15,2 million and is pioneering therapies based on T-cell receptors (TCRs). It tries to engineer potent and specific TCRs through a combination of high-throughput genome editing, functional screening, deep sequence and machine learning. These tools will help find and deliver novel TCR-based therapy by searching and testing a much larger combinatorial number of variations than traditional approaches have delivered.
▶️ Read the original article on sifted.eu