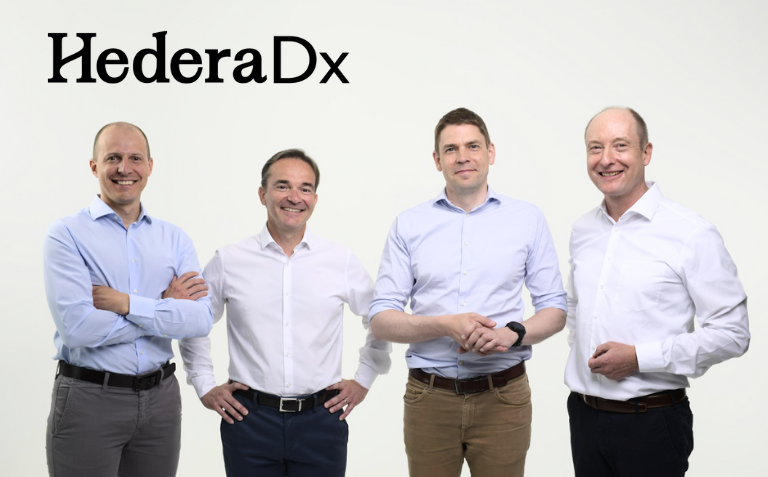 Hedera Dx Launches Blood Based Cancer Testing

Hedera
Dx, a Vaud-based oncology company
specializing in liquid biopsy testing, has unveiled a fully streamlined solution that allows
hospitals to adopt liquid biopsy testing locally for their patients with minimal e
ff
orts. The
solution is a combination of laboratory reagents and a software platform.
Liquid biopsies provide rapid, precise, non-invasive ways of assessing tumors and matching a patient with different targeted treatments. Currently, tumor tissue biopsies are considered a 'gold standard', however they are invasive and the process of obtaining a tissue biopsy is risky, painful and expensive. Most importantly, in up to 40% of cases, the patient can be ineligible for obtaining the biopsy or the actual biopsy can fail.
A liquid biopsy, using a simple blood draw, draws insights and profiles the patient's tumor from circulating tumor DNA (ctDNA) found in the blood. This way hospital laboratories can efficiently acquire information about multiple sites and metastasis in one single sample. Liquid biopsies are also easily repeatable, potentially providing new options for monitoring disease progression and response to treatment through the patient journey.
The adoption of liquid biopsies could unlock the promise of transformative personalized cancer care. For example, there are over a dozen molecularly defined lung cancer entities and a wide range of possible treatments. A precise understanding of the tumor allows pathologists and clinicians to identify effective strategies and ensure that patients don't suffer unnecessarily from the effects of interventions that are unlikely to help them.
Christian Meisel, Co-Founder and Chief Medical Officer of Hedera Dx said: "The widespread adoption of liquid biopsies in oncology will be a game-changer for patients. As a former clinician, I know first-hand how powerful the combination of routine non-invasive testing and personalized therapeutics will be for people struggling with one of the most challenging periods in their lives."

Hedera Dx's comprehensive solution provides a streamlined and local alternative to the handful of liquid biopsy tests that are currently on the market. The solution is called Hedera Profiling 2 ctDNA Test Panel and it integrates easily with the existing instrument infrastructure of a hospital lab. The test is built on actionability, in other words focusing on finding a potential treatment. Actionability is driven by the recognized ESCAT framework, and the test covers over 80% of ESCAT Level I genes, providing a robust connection between the test results and targeted treatments that are already on the market. A key strength of the test is also the ability to simultaneously detect all the four major kinds of genetic alterations, and in addition a genetic signature called MSI.
A cornerstone of the solution is Hedera PrimeTM, a registered IVD medical device platform built on the feedback of over 140 laboratories to save them time while shaping the analysis report. Hedera Prime rapidly interprets DNA sequencing results and allows to quickly generate reports with actionable results connected to therapy options approved by the US and European regulators. Combined with the assay, this cuts the time to reach results significantly, which is crucial in cancer care.

Tommi Lehtonen, Co-Founder and CEO of Hedera Dx said: "At Hedera Dx, we believe that the best way to unleash the power of liquid biopsy is to make adoption as smooth as possible for hospitals. This means introducing several comprehensive tests, intuitive software, and helping hospitals to navigate compliance. This whole platform approach, rather than trying to capture all the complexity with an individual test, is central to our philosophy."
Hedera Dx's full biopsy solution has already been deployed in hospital laboratories across three countries and is about to be implemented in an increasing number of laboratories in the coming months.
Source: Press Release
📸 (Left to right): Damien Lapray (CCO), Valentin Matillon (CFO), Tommi Lehtonen (CEO), Christian Meisel (CMO)