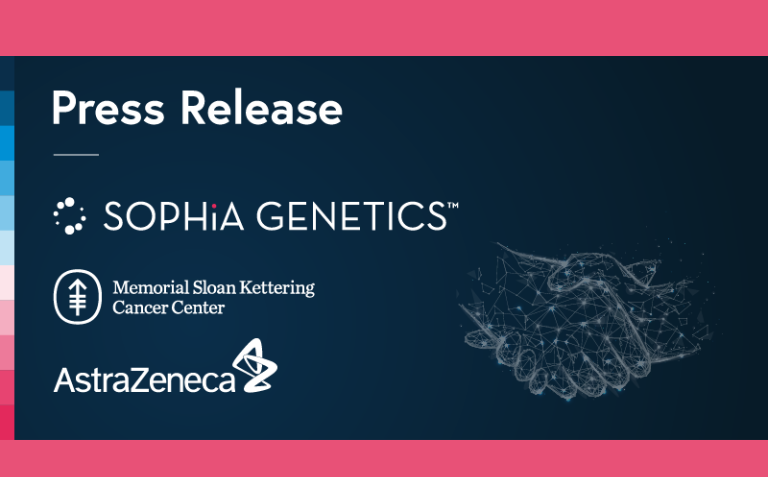 SOPHiA GENETICS Enters New Collaboration with Memorial Sloan Kettering Cancer Center and AstraZeneca

The three companies will collaborate to address global inequalities in comprehensive cancer care, and to improve global access to advanced cancer testing and
data, broadening access to cutting edge science

SOPHiA GENETICS, a category-defining software company and a global leader in data-driven medicine,  announced a collaboration with Memorial Sloan Kettering Cancer Center (MSK), a top cancer treatment and research institution, and AstraZeneca to bring high quality, comprehensive cancer to a global scale. With this collaboration, the three leading organizations will further their shared goal to advance health equity on a global scale by providing inclusive access to comprehensive cancer testing worldwide.
Cancer is the second leading cause of death worldwide. In 2020, 10 million deaths were attributed to
cancer, 70 percent of which occurred in low-and-middle-income countries. While there are multifaceted reasons for this disparity, a top contributor is the lack of adequate testing, which can lead to prevention, early detection, and advanced treatment.
Through the newly announced partnership, SOPHiA GENETICS, MSK, and AstraZeneca will create a decentralized global network for cancer testing, including underserved regions where access to testing remains scarce.
The partnership will provide MSK's proprietary liquid biopsy and solid tumor cancer tests – MSK-ACCESS® and MSK-IMPACT® – to organizations via the decentralized, technology agnostic SOPHiA DDM™ Platform. This offering will be rapidly deployed by SOPHiA GENETICS with support from AstraZeneca's global footprint.
Through SOPHiA GENETICS' cloud-based platform, which provides highly accurate and reliable data and insights, institutions around the world – and in traditionally under-resourced and under-served areas – will have the power to make data-driven decisions.
"The power of a decentralized network like the SOPHiA DDM™ Platform is that diverse data inputs are continuously added to the network to fuel and teach our artificial intelligence algorithms, helping to produce stronger data outputs each time," said Jurgi Camblong, PhD., CEO and Co-founder, SOPHiA
GENETICS. "The diverse data that will be unlocked through the partnership between SOPHiA GENETICS, AstraZeneca, and MSK will undoubtedly contribute to the collective intelligence needed on a global scale to revolutionize the future of cancer research and treatment."

"MSK is excited to collaborate with SOPHiA GENETICS and AstraZeneca to bring our advanced genomic
testing to new populations," said Anaeze Offodile II, MD, MPH, Chief Strategy Officer, MSK. "We believe
that this collaboration will enable patients from around the world to better understand the genomic profile of their cancer. Expanding this to a global population generates a more diverse data set to help develop treatments that could benefit different and oen underserved populations."

This collaboration aims to generate an unparalleled and comprehensive dataset sourced from diverse
populations to provide invaluable insights and knowledge that could shape the future of global
healthcare.
"While cancer continues to be a leading cause of death worldwide, we know that a key barrier for cancer patients and their physicians is a lack of access to high quality comprehensive genomic testing.
Broad access to quality testing can vastly improve cancer diagnosis and physicians' treatment
decisions," said Kristina Rodnikova, Head of Global Oncology Diagnostics, AstraZeneca. "We believe
that our collaboration with MSK and SOPHiA GENETICS will provide physicians and patients with the
reliable data that they need to better diagnose their disease."

The first iterations of this program are expected to be available for healthcare institutions before the
end of 2023.
Source: Press Release