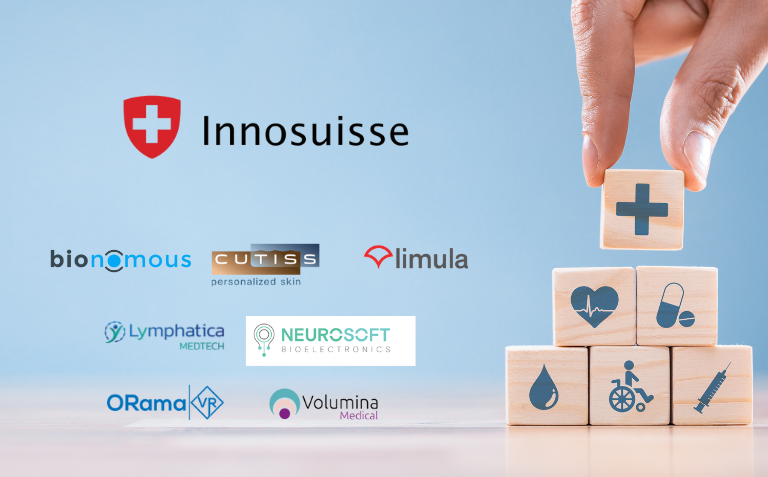 Innosuisse grants CHF 2.5 M to 7 Swiss Health Valley Life Sciences Startups

Within the framework of the Swiss Accelerator, Innosuisse supports 53 innovation projects by SMEs and startups and grants each of them CHF 2.5 million. 7 are based in Western Switzerland.
Three independent experts evaluated each of the 752 short applications and the 128 full applications. Of these, 64 selected companies gave an application presentation in the third round before the Innovation Council made a final decision. The total funding granted amounts to CHF 112 million.
In the health and life sciences sectors, 7 Swiss Health Valley projects were awarded:
Bionomous SA (FR)- Created the EggSorter, is a cost-effective device that automatically screens, sorts and dispenses small biological entities (from 0.5 to 2 mm). Initially developed for zebrafish (Danio rerio) embryos, it works for multiple models: from zebrafish eggs to xenopus oocytes and embryos, flower seeds, and many more.
CUTISS AG (NE) – In partnership with the CSEM, this company created the denovoSkin™, the first personalized and automated skin tissue therapy.
Limula SA (VD) – Offers a modular platform for on-demand and at-scale manufacturing of personalised cell therapie. The company invented a proprietary cell processing tool has the potential to support all production steps of in a single fully-automated device.
Lymphatica Medtech SA (VD) – The medtech company created LYMPHODRAIN™, the first permanent active implant for lymphedema therapy. It allows for continuous lymph drainage in the subcutaneous tissue thanks to a revolutionary micro-pump/catheter system implanted subcutaneously.
Neurosoft Bioelectronics SA (GE) – The SOFT ECoG is the most compliant and flexible subdural electrode technology in the world. It can be used to record from and stimulate the surface of the brain with no added risk to the patient thanks to its conformability and softness. The devices can be used for a wide range of sub-chronic applications such as the precise identification of epileptogenic brain tissue in drug-resistant epilepsy patients. It will be available for a wide range of devices.
Volumina Medical SA (VD) – The company develops breakthrough innovations for plastic and reconstructive surgery. The first product is an implantable polymeric biomaterial and targets the regeneration of soft tissue of the human body which are damaged after tumour excision, genetic malformation or trauma.
Source: Press release