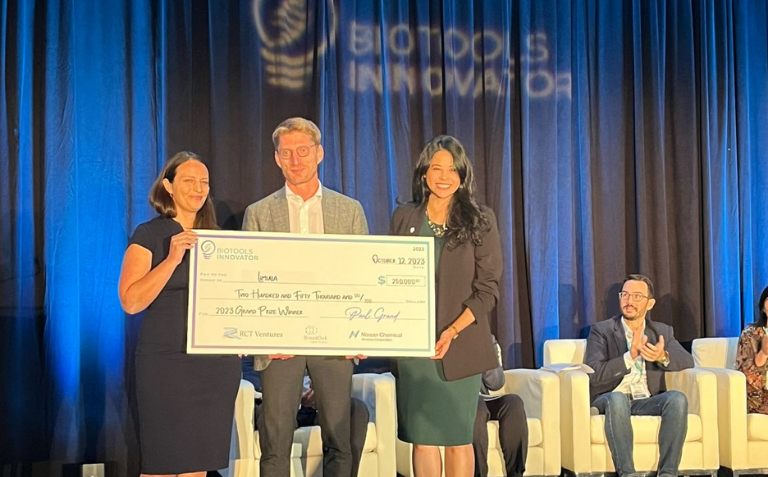 Limula wins the $250,000 BioTools Innovator Grand Prize

BioTools Innovator, a Los Angeles-based accelerator focused on life science tools companies, awarded Limula the grand prize of the BioTools Innovator 2023 Final competition. The swiss medtech company receives a $250,000 non-dilutive prize and the title of 2023 BioTools Innovator.
Limula, an EPFL spin-off, offers an automated tool for scalable cell therapy manufacturing. Its unique technology combines a bioreactor and centrifuge into one device to support the "one-patient – one batch" production of personalized treatments with minimal human intervention.
"Being part of the BioTools Innovator has been incredible. The program was instrumental in helping us bridge the knowledge gap between Switzerland and the U.S., and the mentorship from industry leaders was invaluable in helping us build our value proposition and business strategy," said Luc Henry, CEO of Limula. "All of our fellow cohort companies represent amazing innovation in the life sciences tools space, and we are truly honored to have won the grand prize."
As part of a rigorous selection process, together with the senior leadership teams of its corporate partners at Research Corporation Technologies, Broad Oak Capital Partners, Nissan Chemical America Corp., and more than 80 industry judges from leading life science firms, BioTools Innovator evaluated the pitches of 37 candidates out of more than 300 applicants from 26 countries and 28 U.S. states. Nineteen companies were then selected to participate in the BioTools Innovator Accelerator, which prominently features best-in-class life science startups from around the world. The remaining finalists, Andson Biotech, Aopia Biosciences and BioRaptor each received $10,000.
"BioTools Innovator was launched three years ago to advance life science tools innovation. Since then, we and our sponsors have fostered the development of dozens of companies at the leading edge of life science tools and diagnostics," said Kathryn Zavala, managing director of BioTools Innovator. "Congratulations to Limula and all of the BioTools Innovator 2023 cohort companies. We're thrilled to contribute their progress as they help drive the discovery of new solutions to improve human health."
"The strength of this year's BioTools Innovator cohort underscores the need for new, innovative life science tools to drive the next generation of drug discovery and improve the lives of patients. Congratulations to this year's winner, Limula," said Chad Souvignier, vice president of RCT. "We're proud to be a part of their continued success, and look forward to watching their progress."
"The BioTools Innovator cohort represents entrepreneurs at the cutting edge of cell and gene therapy, single cell genomics, and more," said Bill Snider, partner at BroadOak Capital Partners. "Limula's tool for scalable cell therapy manufacturing is another example of this, and we applaud the team at BioTools Innovator for the work they are doing to expand this vital ecosystem."
BioTools Innovator provides startups with individualized mentorship and feedback, funding opportunities, and continual engagement with peers and advisors. Funding for BioTools Innovator is provided by the Frederick Gardner Cottrell Foundation of Research Corporation Technologies, Inc. (RCT). Additional support is provided by BroadOak Capital Partners and Nissan Chemical America Corporation.
Source: Press release
📸 Luc Henry, CEO of Limula, receiving the Grand Prize BioTools Innovator