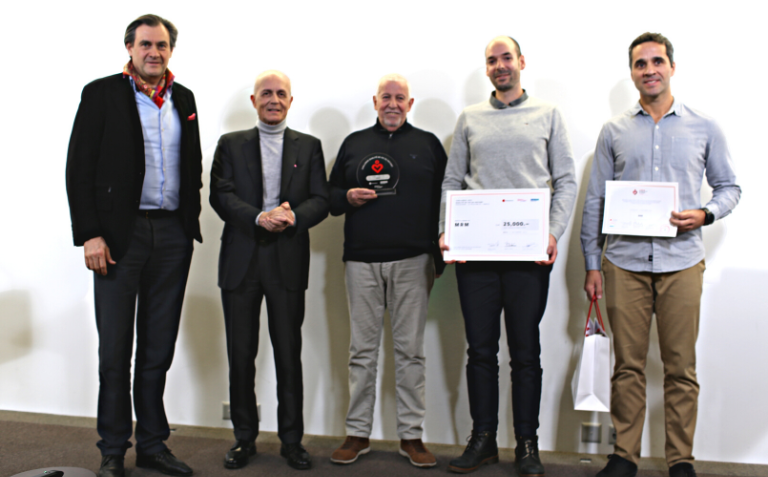 MRM wins the Debiopharm – La Solution – Inartis Challenge

The 7th Debiopharm-La-Solution.ch-Inartis Challenge for the Quality of Life of Patient has rewarded with a prize of CHF 25'000 the MRM project. It was selected among 5 finalists who, last July, received 5000 Swiss francs each to develop a prototype.
The winner was selected by a jury of healthcare and media professionals from among five finalists, who were each awarded CHF 5,000 to develop a prototype earlier this summer. At the ceremony held in Lausanne, the finalists were able to unveil the progress they had made since last July when they were selected from over a hundred candidates. This ideas competition has been very successful in its seven editions, having generated a total of nearly 600 ideas and projects answering the question "How can we improve the quality of life of patients?
A machine to relax muscles
The MRM project, led by two Valaisans, Jean-Claude Hirt, a retired masseur for elite athletes, and Loïc Barben, an EPFL engineer, is a massage device for people in wheelchairs, paraplegics, hemiplegics, and people suffering from spinal cord injuries who need to improve their blood and lymph circulation. Elderly people who lack exercise could also benefit, as could patients with multiple sclerosis, for example.
"We have created a lateral movement that can be applied in the form of a wave that runs through the legs or arms and has an effect similar to a massage that is very difficult to give manually and at a constant rhythm," explains Jean-Claude Hirt. Several years of research were necessary to develop this easy-to-use device, which would also accelerate physical rehabilitation or offer sportsmen and women a muscular recovery by reducing the risk of injuries.
We discovered that this massage would also have a favorable impact in the treatment of intestinal pathologies, against water retention in the legs, or would allow to reach deep muscles such as the psoas," confides Loïc Barben. Its potential applications deserve a thorough attention of the medical research".
Several pioneering projects awarded and several start-ups created
During the first six editions, this competition rewarded precursory projects of digital medicine or current telemedicine, such as in 2016, the Dermintel App which allows to diagnose skin problems and to contact a dermatologist, with his phone, or the in Visu project, which, in 2017, proposed care paths in virtual reality in order to reduce the anxiety of patients
"The success of an innovative project depends on three main parameters: the momentum, which must be aligned with the needs of a market, the team, which will be able to grow and evolve its idea, and the support, particularly financial, which will allow the project to start working serenely and efficiently," recalls Benoît Dubuis, President of the Inartis Foundation, who adds, "Through this Challenge, we offer these three components and ensure the follow-up of the project, over time."
As Tamara Chièze, CEO of La-Solution.ch, a Vaud-based company active in home care, points out, "In a world where the care pathway is becoming longer, where the wishes and dreams of autonomy are becoming more complex, involving a multitude of different players, and where the care space is expanding to include the home, taking into account the patient's quality of life is no longer a luxury; it is becoming a necessity. We live it at every moment through our profession and wish to be actors of these changes by sharing our experience with the participants of the Challenge".
Source: Press Release