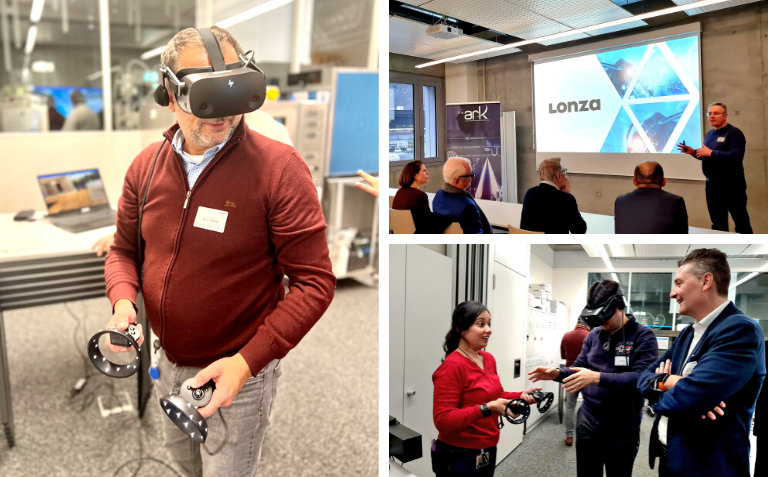 VR training for new Lonza employees

How to attract and retain talented workers in the Biotech Industry? And how to train the new recruits efficiently? Lonza in Visp in Switzerland created a Virtual Reality training tool. So far, 250 people were able to train with this new technology. Michael Moedler, Head of Training at Lonza.
How did the project started?
We were looking for new ways of training and we were aware that the Nasa, the US Army and surgeons were already trained in VR and with the massive growth of our Ibex building (in Visp) we knew that we will have to train around 200 to 500 employees every year. We cannot train them on the real equipment because sometimes it is not yet installed, or it is in operation and you have clean rooms limited access. VR appeared to be the perfect solution. 
What are the results of this experience? 
We have now more than 10 modules already running and we were able to reduce the door to work time by 60% which is really remarkable.
If you train on the real equipment you have set up times, whereas in a VR you just go back and forth to the task that you have to master. It is really an ideal solution to train people when you have to repeat a lot of times the movements of the procedures. 
The trainees can learn at their own pace, repeat certain sections until they feel comfortable, and there is no need to have a trainer next to them. We can also train people from different countries at the same time in a virtual room. 
Is it fun?  
We had a lot of people that said that VR is just for computer nerds and it's not for the real world. We invited our executive committee, they put the headsets on, and they didn't want to get out anymore ! After testing it, they believed this is really the future. The immersion experience is really tremendous and the training becomes more efficient. 
Did the implementation of the technology had other effects in the company? 
This technology is really attractive and it makes people excited. We are providing lessons for students at the HES SO and they were really excited to join and see what is happening at Lonza. It is also marketing in our quest to attract and retain qualified workers.