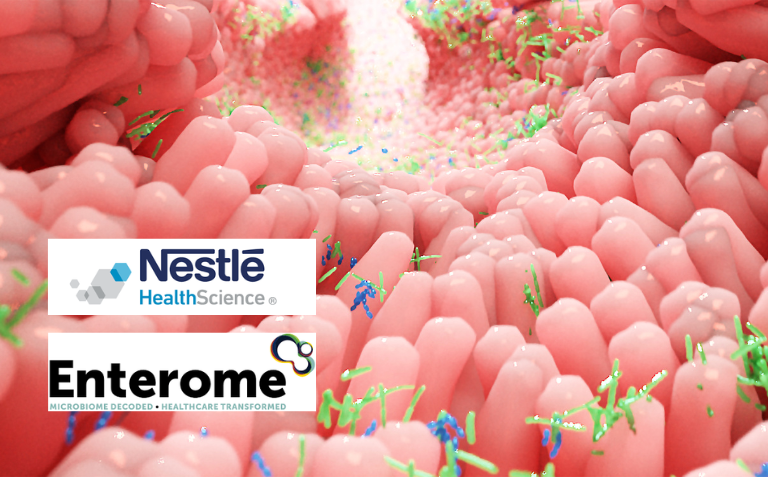 Nestlé Health Science invests EUR 40 million in Enterome

Nestlé Health Science has signed a collaboration agreement with French company Enterome to target food allergies and chronic intestinal diseases
Enterome develops new treatments for cancer and autoimmune diseases based on its unique knowledge of the microbiota. With Nestlé Health Science, the french company intends to work on the development of an experimental treatment, EB1010, based on Enterome's proprietary Mimicry platform and aimed at improving the management of patients suffering from food allergies or chronic inflammatory bowel diseases (IBD). Human trials of this drug candidate are scheduled to begin in 2023.
Enterome, based in Paris and at the Genopole d'Evry, and Nestlé Health Science, based in Lausanne, Switzerland, will also develop a portfolio of potential new treatments for food allergies based on the Mimicry platform, focusing initially on the most common, peanut allergy.
Nestlé Health Science invests EUR 40 million
Enterome will receive an initial contribution of €40 million from Nestlé Health Science, partly in cash and partly by subscription to Enterome's capital. The French company is eligible for additional payments based on clinical and commercial milestones as well as royalties on net sales of the various products resulting from the partnership.
Nestlé Health Science's Chief Scientific and Medical Officer Hans-Juergen Woerle pointed out that around 220 million people worldwide suffer from food allergies, while IBD affects 7 million patients. "Through this collaboration, we aim to develop new treatments representing an important unmet therapeutic need," he said.
"We will generate new AllerMimics candidates using our highly productive Mimicry drug discovery platform, which has already enabled us to discover several small protein and peptide drug candidates that form a new therapeutic class across a wide range of therapeutic areas. AllerMimics are an intrinsically new class of specific antigens produced by the microbiome, which are similar to food allergens and help the patient's immune system to tolerate these specific allergens," explains Christophe Bonny, Chief Scientific Officer of Enterome.
Preventing or reducing the intensity of allergic reactions in the gut
"This collaboration will also allow us to advance the clinical development of the first candidate in our EndoMimics portfolio, EB1010. We believe that EB1010, administered orally, has the potential to prevent or reduce the intensity of allergic reactions in the gut. While also being evaluated in Chronic Inflammatory Bowel Diseases, EB1010 may be indicated in many different forms of food allergy, potentially in combination with AllerMimics".
Pierre Belichard, CEO of Enterome, said he was delighted with the agreement with Nestlé Health Science, the world leader in food allergies. For the executive, the conclusion of this collaboration agreement also highlights both the potential and the growing interest of industry in the Mimicry platform as a source of new immunotherapies. "This step is all the more exciting after the recent clinical and immunological validation of the mode of action of EO2401, our first ready-to-use OncoMimics immunotherapy for glioblastoma and adrenal carcinoma," he said.
In 2018, Enterome signed another partnership worth CHF 600 million with Takeda, which has a production facility in Neuchâtel, to fight Crohn's disease.