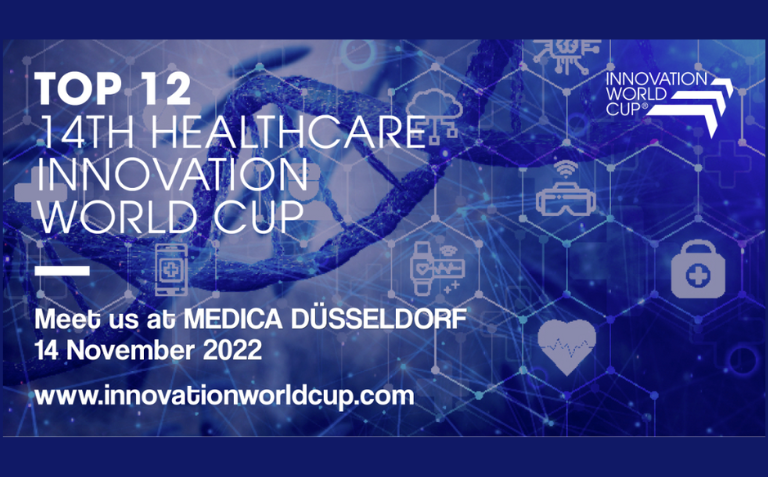 Netsensing Technology finalists of the 14th Healthcare Innovation World Cup at Medica 2022

Incubated at Microcity Neuchâtel, Netsensing Technology is excited to announce that it has been selected as one of the Top12 Health Techpreneurs 2022.
Netsensing Technology is presenting its solution in an exciting final during the 14th Healthcare Innovation World Cup® Pitch and Award Ceremony at MEDICA in Dusseldorf, the world's largest medical trade fair on Monday, 14th of November 2022, 13:00 – 15:00 CET.
The Home Sleep Apnea Test (HSAT) device that Netsensing has developed, enables the mass detection of sleep apnea by drastically reducing the time and cost of detection and, is easy to use.
Sleep apnea prevalence is 15% among the population. When not treated, it reduces life expectancy by more than 12 years according to the British Lung Association. Given current high costs and waiting time, sleep apnea syndrome is widely undiagnosed.
Co-founder of Netsensing Technology, Philippe Koller said: "We are incredibly proud to be nominated for this award, and truly appreciate being recognized for our innovative approach in helping everyone to sleep better". Raja Yazigi, co-founder, added: "This international recognition will reinforce our penetration of the global market and our position with international partners".
The Top3 Health Techpreneurs 2022 will be honored at the award ceremony taking place during MEDICA in Dusseldorf on Monday, 14th of November 2022, after the evaluation of an expert jury consisting of companies, investors and renowned experts.
About Netsensing Technology Sàrl
Netsensing Technology Sàrl is a privately held medical device company incorporated in 2019. The company received several recognitions in Switzerland and Europe, won EU H2020 Digi-B- Cube grant No. 824920 and was selected to be part of European H2020 programme SmartEEs2 under grant agreement No. 872076. It focuses on enabling the mass detection of sleep apnea with an extremely affordable wearable Home Sleep Apnea Test device (HSATPro), compliant with the American Academy of Sleep Medicine (AASM) requirements and, targeted as a class IIa medical device.
About Healthcare Innovation World Cup® series
The Innovation World Cup® Series is the world's leading open innovation platform that supports breakthrough innovations to become reality and connect techpreneurs with international tech corporations. The Innovation World Cup® Series was initiated by Navispace GmbH in 2003. Current and previous partners include STMicroelectronics, EBV Elektronik, Würth Elektronik, Microtronics, VOSS Automotive, AiQ Smart Clothing, VARTA Microbattery, Google, Intel, Swisscom, Ericsson, Telefonica, Gemalto, Samsung, and many more. A panel of international industry experts selects the best solutions based on the level of innovation, marketability, usability, and sustainability.