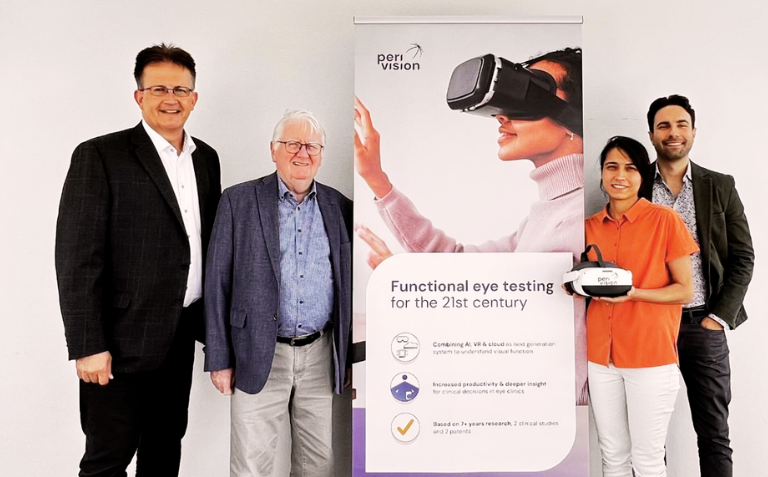 PeriVision raises between CHF 0.5 and 1 Million in a Seed Round

PeriVision is utilizing the power of artificial intelligence (AI), virtual reality (VR), and cloud computing to redefine eye testing and care.
Perivision, a University of Bern spin-off now located at Biopôle, is developing a portfolio of virtual eye tests conducted on commercial VR headsets. Doctors can easily configure and analyze the test results on a cloud platform, employing AI algorithms to optimize eye tests, assist patients autonomously, ensure quality control, and provide valuable insights for clinical decisions. This approach enhances productivity in clinics, optimizes treatment decisions, and expands access to eye care.
The primary focus of PeriVision is to optimize visual field and perimetry testing, a critical step in preventing blindness caused by glaucoma—a chronic eye disease affecting over 80 million individuals worldwide. Dr. Serife Kucur, the CTO of PeriVision, emphasizes the company's long-term vision to develop a holistic platform comprising various eye tests and AI tools that assist clinicians in their daily work.
This ambitious goal has garnered significant interest from private practices, hospitals, and medical technology distributors, who are eager to purchase the system, conduct research, or bring it to market. Last year, the startup secured EUR 1.5 million in pre-seed funding from the EIT Health Wild Card accelerator, a convertible loan from Venture Kick, and a substantial research grant from the Swiss government's Innosuisse program. These resources facilitated the building of their first product and conducting essential clinical studies. In May 2023, the company successfully closed the first tranche of a seed round, raising CHF 0.5-1.0M to further accelerate research and development, and prepare for the launch of their inaugural product in Q1 2024.
Various investors participated in the seed round, including early-stage VC, DART Ventures, experienced angel investors from the founders' network, the Swiss ICT Investors Club (SICTIC), Fondation pour l'Innovation Technologique (FIT), and the Biopôle Startup Fund. Notably, Walter Inäbnit, the former owner and chairman of leading ophthalmic device manufacturer Haag-Streit Group, will join PeriVision as a board observer. Inäbnit, a respected figure in the industry, believes in the company's potential to revolutionize ophthalmology and improve both clinical practice and patient care. "Bringing innovation into ophthalmology to improve clinical practice and patient care has been the work of my life at Haag-Streit. PeriVision shares the same vision. They want to make eye care much more accessible to patients and the lives of eye doctors easier. But to make an impact you do not just need great technology, patents and research, which they have – but also commercial experience and an understanding of the industry. This is what I hope to contribute to the young company." `
Arijana Walcott from DART Ventures, specializing in bringing European deep-tech startups to the US market, highlighted the rationale behind their investment in PeriVision's eye care platform. "With billions of people impacted by vision impairments, many of which could have been prevented, the need for timely diagnosis and treatment is crucial. Perivision's mission to provide deeper insight into eye diseases and make eye care affordable and accessible resonates deeply with us. We at DART were impressed by the team's expertise, professionalism, and the significant advancements they have made in AI research. With their patented solution and access to valuable data sets, Perivision has a unique advantage in the market." As PeriVision prepares to enter the markets in the United States and Europe in 2024, the management team eagerly collaborates with investors who contribute not only capital but also expertise and enthusiasm for a shared vision.
Source: Press Release
📸 (from left to right): board member Dr. Ernest Cavin, board observer Walter Inäbnit, CTO & co-founder Dr. Serife Kucur and CEO & co-founder Patrick Kessel