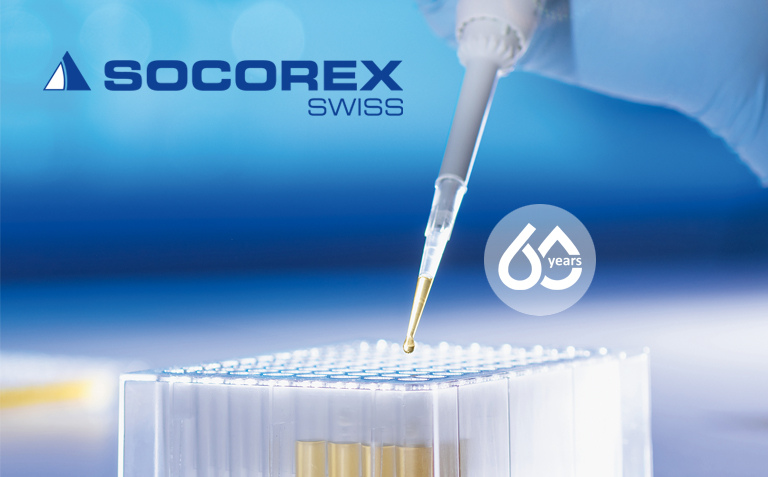 Socorex, 60 years of success in precision volumetry

The story begins in 1963, in Canton of Vaud (Switzerland) with the know-how gathering of small companies active in manufacturing medical and dental syringes, needles and cannulas. Thanks to a new production site in Ecublens and a consolidated range of reliable, robust medical instruments and accessories, Socorex quickly became a success on the Swiss and international markets. Its instruments were very much in demand in an economic context that was then booming in all scientific, medical and technical fields.
Socorex's unrivalled expertise in plunger/barrel sealing
Mastering the honing of glass barrels and boring of plungers, making this pairing perfectly tight, has been one of the key success factors in establishing the reputation of Socorex and its products in Switzerland and abroad.
Since then, Socorex has continuously invested in research and development. Thanks to its loyal and highly qualified team of employees, over the years, the company has been able to continue producing reliable, long-lasting, high-quality instruments, always adapted to a very demanding market.
Today, with its micropipettes and dispensers, the company has become one of the world leaders in precision liquid volumetry in the laboratory.  By developing high-performance self-refilling syringes, Socorex has also positioned itself very well in animal injection and has become a benchmark in terms of ergonomics, robustness and precision.
Socorex certified service and calibration, a sustainable and eco-responsible guarantee
At the same time, Socorex further develop its service and calibration activity for precision instruments. To meet strong demand, a 3rd ISO 17025-accredited control laboratory is being built. This service programme, available for all instrument brands, is part of Socorex's commitment to sustainability and its responsibility to the environment over the long term. Robust instruments meet these new requirements, for which Socorex has, from the outset, made available all spare parts to guarantee long-term use, thus limiting waste.
The Socorex brand distribution without borders
Over the years, Socorex has built up a solid international network of distributors who act as ambassadors for the brand, selling and servicing instruments made in Switzerland. The updated website is a valuable source of information for users around the world, who continue to place their trust in Socorex.
Socorex working closely with its partners
To celebrate this milestone of 60 years of success, and to stay close to its distributors and business partners, the company has chosen to hold meetings in Europe, the Middle East/Africa, Asia and the Americas. And in Switzerland too, which remains a very important market. The events are organised in the context of a trade show, to consolidate exchanges that have often been established for a very long time.
Socorex, your expert for the long-term horizon
With a reliable range of products, exciting development projects and enlarged and renovated premises, the company looks forward to the coming years with confidence and peace of mind. Socorex is grateful for the loyalty of its staff and the trust of its distributors and suppliers, and looks forward to being at your side for many exciting years to come.
Text and photos: Socorex