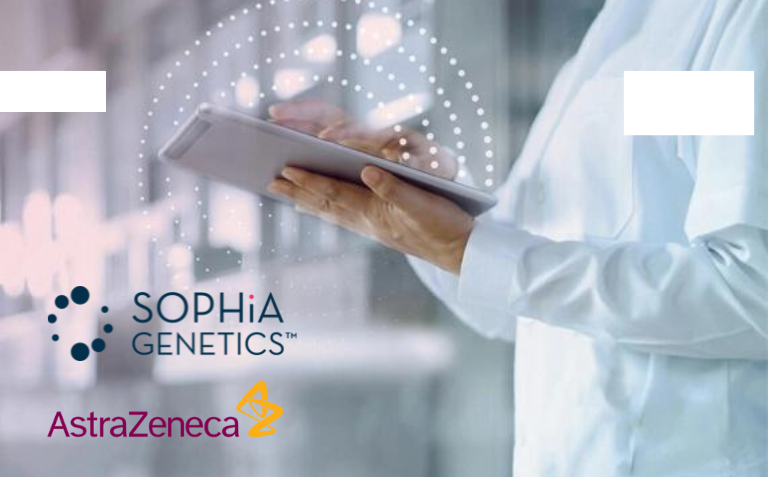 SOPHiA GENETICS Expands Partnership with AstraZeneca

The Swiss start-up, specialised in AI assisted medicine, and the Swedish-British pharmaceutical company want to create multimodal approaches for cancer drug development
SOPHiA GENETICS SA, the creator of a leading cloud-native global data-sharing network and health analytics platform, is partnering with AstraZenecato apply their multimodal technology and expertise to the biopharmaceutical company's oncology portfolio. The multimodal approach will go beyond a single data modality, combining radiomics analysis of medical imaging data, molecular data, digital pathology, clinical and biologic data for a more comprehensive assessment of multimodal signatures leveraging proprietary AI and machine learning technology. Together, the companies will examine ways to accelerate clinical trials, support evidence generation for market access, and improve clinical decision-making, helping clinicians to select the best possible treatments.
SOPHiA GENETICS is able to support this vision in practice today. In parallel, SOPHiA GENETICS launched its own real-world DEEP-Lung-IV clinical study to leverage its multimodal machine learning-powered analytics capabilities to identify multimodal predictive signatures of response to immunotherapy for patients with advanced lung cancer.
"AstraZeneca is a global leader in innovative oncology therapeutics and has built one of the most diverse and robust oncology portfolios and R&D pipelines in the industry.  Building on our existing partnership with AstraZeneca, notably to expand access to HRD testing, we are incredibly excited to deepen our collaboration to multimodal approaches that will further enable their precision oncology capabilities" said Peter Casasanto, Chief BioPharma Officer of SOPHiA GENETICS.
"We see AstraZeneca as a visionary partner willing to invest in the next generation of data sciences and technology capabilities at scale to usher in a new area of data-driven medicine. We are incredibly excited to further integrate science and technology in our joint pursuit of transformative impact on patient outcomes" said Dr. Philippe Menu, Chief Medical Officer SOPHiA GENETICS.
"Multimodality aims to harness the power of advanced AI and machine learning models by integrating multiple data modalities to obtain key insights which inform prognosis and response to therapy at the individual patient level. This approach is synergistic with AstraZeneca's focus on developing personalized cancer treatment and has the potential to elevate precision oncology, currently driven by genomic-based biomarkers, into a truly multimodal connected health ecosystem," said Greg Rossi, Senior Vice President, Oncology Europe & Canada, AstraZeneca.
Source: Press Release