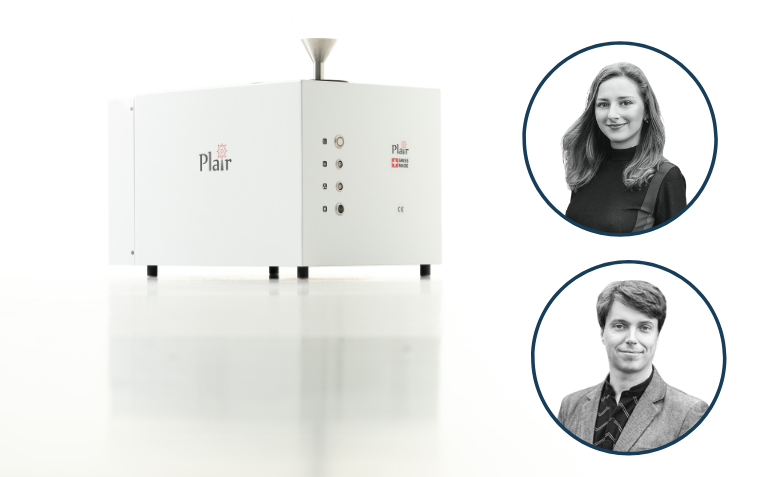 Plair SA raised CHF 2,7 million

A grant to fund the Rapid-C Real-Time Microbial Detector 
Plair SA, based in Plan-les-Ouates, Geneva, has been awarded CHF 2.7 million in funding from the State Secretariat for Education, Research and Innovation SERI and the EIC Accelerator (former SME Instrument), a highly competitive programme of the European Commission offering funding, coaching and business acceleration services to innovative small or medium-sized businesses with global ambitions.
A revolutionary air analysis system
Founded by two PhDs in Physics from the University of Geneva, Switzerland, Svetlana and Denis Kiselev, specialized in aerosol measurements and fluorescence spectroscopy, Plair has invented a new and innovative method to continuously analyze single airborne particles in real-time. The wide scope of detection identifies allergens such as pollen, fungi, air pollution, bacteria, and virus aerosols, among others. Initially focused on outdoor environmental monitoring, Plair systems quickly became a reference in the field of real-time pollen and bioaerosol detection, with installations in 12 countries.
The Rapid C, a real-time microbial detector
The Rapid-C responds to the need for automated air microbial monitoring in the pharmaceutical, cosmetics, food & beverage and other industries requiring sterile manufacturing. Rapid-C is a new, breakthrough detector that replaces (for cleanrooms of grades B, C, D) and complements (for cleanrooms of grade A) the traditional sampling methods. Moreover, it also fully replaces traditional particle counters thereby providing additional cost-saving to the final user. Moreover, this automated device will spare millions of Swiss francs by avoiding batch losses due to microbial air contamination, while ensuring that products are produced with the highest possible quality and safety practices. Thanks to its technology, Rapid-C's customers will benefit from the real-time and continuous automatic solution.
CHF 58 million by the SEFRI to fund 24 swiss startups
The State Secretariat for Education, Research and Innovation (SEFRI) will support 24 swiss startups whose projects have been selected in the 2021 calls for projects of the European Innovation Council (EIC) "Accelerator" instrument. Neurosoft Bioelectronics and Artiria Medical, two Western Switzerland startups, also raised several millions of Swiss francs through this programme to develop their medtech and biotech solutions.
The EIC Accelerator is the main instrument for the promotion of start-ups in the EU's framework program for research and innovation "Horizon Europe". This program runs from 2021 to 2027 and has a budget of just over 95 billion euros, making it the best-endowed research and innovation program in the world.
Switzerland was associated with the previous program, Horizon 2020. It hopes to join Horizon Europe, but negotiations are still ongoing. In the meantime, a call for projects has been launched via le Swiss Accelerator.